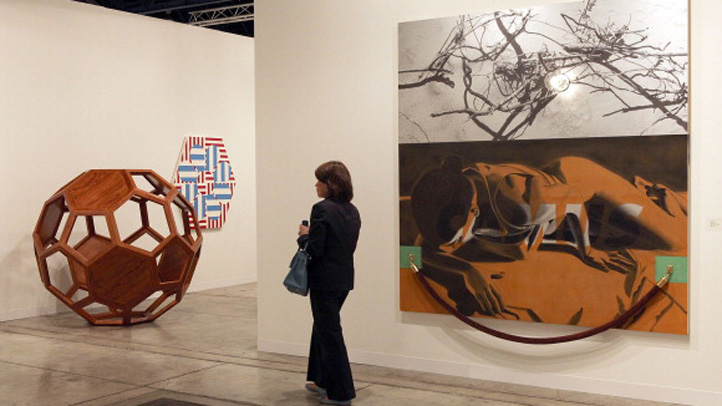 Love art? Just want to party? Whether you're a serious collector or a social butterfly who happens to encounter art while you are out and about this time of year, Miami is the place to be the week of Dec. 1 to 4. Art Basel Miami Beach, the international art extravaganza and cultural affair, now in its 10th year, brings with it enough events to fill your social calendar several times over, upping our city's cool factor in extraordinary ways. Galleries, hotels, restaurants and the local set have been gearing up for the big event, which kicks off as early as Nov. 29, even days before Basel officially arrives. Here, we'll tell you what's happening where. Keeping up with the onslaught of art events, however, is something you'll have to figure out on your own. Note: You'll definitely have to sacrifice a little sleep to see it all.

The Not -To-Be-Missed Events:

There are several things you absolutely must see during this latest incarnation of Basel. Among them, the G-Spot Bike Tour, put together by beachedmiami.com. Featuring 10 local artists, this tour takes you from one piece of interactive art to the next throughout different locales in the Design District, Wynwood and Downtown. Be sure to also make room for art fairs NADA, at Deauville Beach Resort, Red Dot, at N.E. First Avenue and N.E. 31th Street, and Aqua 11, at the Aqua
Hotel. The fairs run from Dec. 1 to 4 for Aqua and Nada and Nov. 30 to Dec. 4 for Red Dot.
Heavy hitters Art Miami and Design Miami are always a must-see. Art Miami, the longest running contemporary art fair in Miami, will ensure there is no parking whatsoever in Midtown and promises art from more than 100 international galleries. Design Miami, on the other hand, will suck up all the parking spots on Miami Beach and leave you longing for a home makeover. Both launch their events on Nov. 29 at private receptions and run through Dec. 4.
The Bass brings a spectacular show with "Erwin Wurm: Beauty Business." The sculptor's work focuses on home and dwelling, including a bar for viewers to interact with. The exhibit is on display throughout Basel and until March 4, 2012. But you'll want to see it now for bragging purposes.
Musical art takes form at Pop-Up Pianos Miami. Ten pianos were given to local artist teams and will then be placed around town and used at concerts throughout Basel week. Hear one work of art in action at the Arsht Center with a free concert by "RockJazz" Pianist Elew on Dec. 2.
Consider yourself a party crasher? Be sure to get tix to Miami Art Museum's Crash the Ball. This after party to MAM's ball hits the Fontainebleau Miami Beach Glimmer Terrace on Saturday, Dec. 3 from 10 p.m. to 2 a.m. We've seen how this artsy crowd parties and, well, this is a soiree you don't want to miss. Tickets are $150 per person at the door, $100 pre-sale and $75 for MAM Contemporaries. Purchase them by calling 305.375.5935.

The Good-Luck-Getting-In Private Events:
With every great fest comes the impenetrable guest list. These events are completely off limits. Should your name be on the list, kudos. If not, you'll just have to wait until paparazzi-style pics hit the web the following day. Until then, you can dream about the "As If" Magazine launch with Patrick
McMullan at Fendi Casa Luxury Living Showroom. Try as you might, but unless you've got a golden ticket, you won't be getting into "Interview" Magazine and The Andy Warhol Museum's sneak peek screening of Warhol's unseen film "San Diego Surf" at the Standard. And you can stand in line, but you can't come in to Jimmy Lovine, P. Diddy, Andy Valmorbida Celebrate Culo by Raphael Mazzucco at Mr. Chow at the W South Beach. Nor will you be permitted entrance to Fendi Casa Beats by Dr. Dre & Artist Nick Cave. But take note, because these are the notable names you'll see in the headlines the following days. Wanna see some pics? We suggest getting over to the Shelborne for Art of Night on Nov. 30. Famed local photog Seth Browarnik puts his nightlife photography on display. Who knows, maybe even you are in some of the pics. But since it's a private affair, you'll really never know, now will you? Refinery 29 is throwing a shindig at Cafeina Wynwood Lounge, but
it, too, is invite only. You will, however, have access to Refinery 29 now that it is making Miami its latest home sweet home.
The Man-This-Music-is-Good Events:
Along with art, Basel packs a heavy music punch. A few artists rolling into town include: Special Disco Version (James Murphy and Pat Mahoney of LCD Soundsystem) and a live performance by The Black Lips from TOYOTA ANTICS presents Special Disco Version at Grand Central on Dec. 1 at 10 p.m. The event is free and open to the public, but on a first-come, first-serve basis. For tickets, go here. Music Loves Art With TV on the Radio is set to land at Ricochet on Dec. 2. Ticket info is still unavailable at this time. But if you hear more, please, tell us. And then there's Bardot. Neon
Indian hits the stage Dec. 1, and Moby plays a rare acoustic set the following night. Tickets for both can be purchased here. You can also catch a set by Young the Giant ("Cough Syrup" not
included) on Dec. 2 at the Shelborne, if you're lucky.
The What-In-The-World-is-That Art Guide:
Every year there are a handful of public works that make us stop in our tracks and say, "wow." This year, we're betting on that reaction from Mr. Brainwash. Yup, he's coming back to Miami. And he's taking over the same space, Boulan South Beach's luxury condos, as last year. Been there, done that with the storm troopers. So, what will Brainwash come up with this year? While you ponder, consider Esmeralda Kosmatopoulos' giant hands set to take over Bayfront Park. Would the five, oversized hand sculptures really be complete without audio of the art of palm reading accompanying the piece? Clearly not. Another towering work, Tobias Rehberger's "Obstinate Lighthouse" sculpture at South Pointe, is a beacon of art, and set to stay after Basel ends. Too bad we can't say that about the rest of the amazing art set to land in town next week. Enjoy it while it lasts.