After weeks searching for a suspect accused of stealing a car with a nine-month-old baby inside, a woman was arrested Thursday, according to a Sweetwater police report.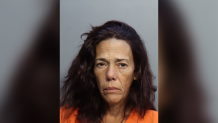 Jeanette Munoz was arrested Thursday and is facing charges that include grand theft and false imprisonment of a child, the police report said.
The car was stolen in front of Adela's Coin Laundry at 11050 West Flagler Street, the report said.
The baby was reunited with its mother after Sweetwater Police say the child was found about a mile and a half away at Long Gong Chinese restaurant, unharmed.
A witness said she saw the mother pull up to the laundromat to pick up clothing and left the child in a car. When she went inside, Munoz got into the car and drove off with the baby inside.
A witness inside the restaurant said a woman came by with the baby and said she'd be right back, but never returned.
Bond was set to $50,000, according to the report.