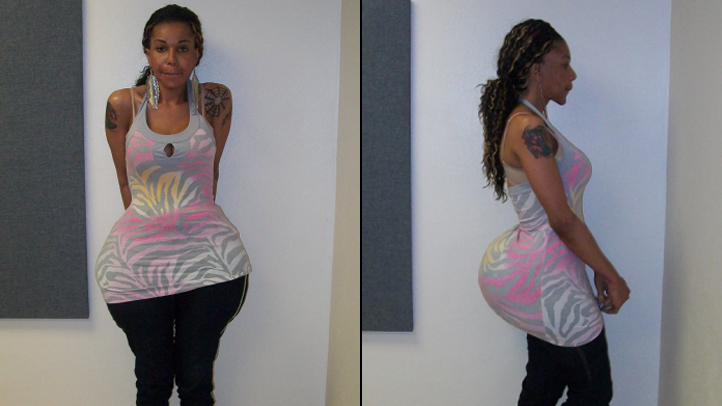 The transgender woman accused of running a black market butt enhancement business that used Fix-a-Flat and cement for injections claims she's innocent and says her alleged victims are lying.

Oneal Ron Morris, 30, denied the toxic tush allegations in an interview with Entertainment Tonight, which aired Wednesday.

"They didn't catch me doing anything so it's just allegations," Morris said. "I'm innocent, I really am innocent or whatever."

Morris was first arrested on Nov. 18 on charges of practicing medicine without a license after an investigation by Miami Gardens Police and the Florida Department of Health.

In that initial case, police say Morris injected a woman with a substance consisting of the tire sealant, cement, mineral oil and super glue.

The amateur incision was then sealed with super glue, police said. The victim was later hospitalized with a serious medical condition as a result of the injections.

"It sounds bizarre but I just don't think, how can America feel like a person could even put cement in somebody's bottom," Morris told ET.

Corey Eubank, an alleged accomplice of Morris, was also arrested. Eubank is pleading not guilty, and her lawyer said she wasn't involved in the injections.

Since the arrests of Morris and Eubank, more victims have come forward. Police say they've confirmed two victims' stories but are working on several other claims, including one by Rajindra Narinesingh, who claims she was given a near fatal face injection by Morris.

"These allegations...I didn't do any of these things to these people, just know these people who are lying are ruining my life," Morris said. "They keep on lying, but you know, the truth will prevail and that's why we have courts and stuff like that."

Morris and Eubank are out of jail on bond, each charged with two counts of practicing medicine without a license.

Police believe more victims are out there and are urging them to come forward. Morris said the accusations have made her the victim.

"If anybody's a victim, it's definitely me," she said.