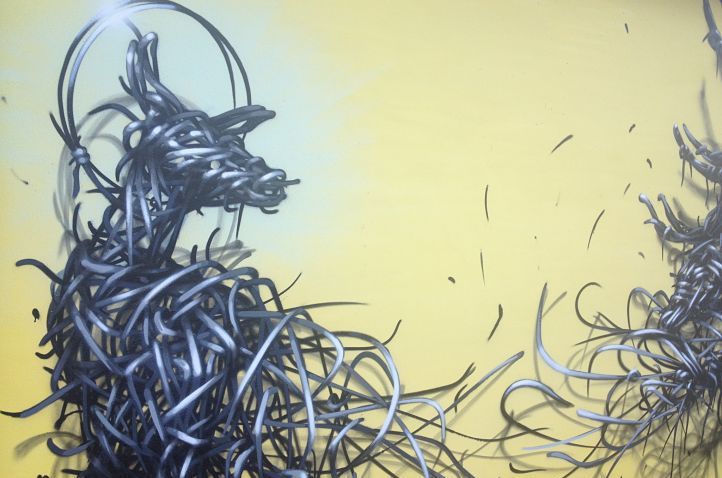 To say there'd be no Wynwood were it not for The Wynwood Walls wouldn't be much of a stretch. For though Wynwood itself predates The Walls, in name and in space anyway, it's a cinch the 'hood would never have become such a singular sensation had not the open air "museum of the streets" arisen in its midst. And while the late, great Tony Goldman is no longer around to share in his great creation, the ever-benevolent visionary will surely remain in spirit, so long as there's a Wynwood and a wall. Niteside asked Goldman Properties Arts Manager Meghan Coleman to fills us in on all the new wow.
What's new, mural-wise, at The Wynwood Walls for Art Week 2012? This year at The Wynwood Walls we have a lot going on, mural-wise, within The Walls themselves -- Shepard Fairey will be creating a new mural to replace his original; Daze will be doing a full mural on the 26th Street side of The Walls, and Faith 47, DALeast and Santiago Rubino will all be creating new pieces at The Wynwood Doors.
Have you got some new Outside the Walls action too? Yes, Kenny Scharf is creating a mural on NW 2nd Avenue on the site of what will become a memorial garden in honor of Tony Goldman.
Speaking of which, isn't there a Tony Goldman Tribute space on the site of Wynwood Walls itself? That's right. We'll have a special exhibition called "Time Evaporates, Emotion Elevates", which will feature a series of commissioned paintings with corresponding lenticular pieces, as well as a special tribute to Tony himself. The artists included in the special exhibition ar Kenny Scharf, Futura, Logan Hicks, Aiko, Swoon, Ron English and How and Nosm.
Is there any other new Outside the Walls action we need to know about? In addition to Kenny's mural at the future garden KR is painting on 26th Street, and Jesse Geller of IRAK will be completing the flagpole of The Wynwood Building to go along with his wall from last year.
Will we also again have a chance to hit the Walls' wowsome pop-up shop? I'm happy to announce that the pop-up shop will now become permanent and it'll be called The Go! Shop. We'll have many exciting items available, including a series of artist-collaborative Go! Kits which essentially are the tools to use to go out and do something fun and creative. The Go! Beach Kit for example is a beach bag, flip flops, towel and sunscreen all designed by Kenny Scharf. There's also an A.B.designed travel kit called Go! Fly, and a stencil kit designed by Logan Hicks and Aiko called Go! Paint. Then of course there will be an enormous library of street art and graffiti books, as well as a new edition of The Wynwood Walls, and an assortment of artist products and other wondrous items. There's also a special contest for anyone who purchases one of the Go! Kits.
Sounds like the kinda whole lotta wow that would make Tony G very proud, don'tcha think? I really hope so!
The Wynwood Walls opens Art Week 2012 on December 4th, 9-11pm.