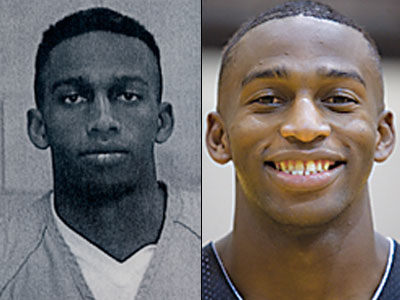 The 22-year-old former South Florida high school basketball standout accused of posing as a fresh-faced teen in Texas was formally indicted Monday on six felony charges.
Guerdwich Montimere, 22, faces three counts of tampering with government records, one identity theft charge and two counts of sexual assault related to his fraudulent foray into small-town Texas high school athletics, according to the Odessa American.
Montimere, a 2007 graduate of Dillard High, resurfaced in Odessa under the name Jerry Joseph, enrolling as a 15-year-old freshman at Permian High School in 2009.
His scheme unraveled in April, when two South Florida coaches who knew Montimere ran into him at a tournament in Arkansas, where he was posing as Joseph.
Montimere was arrested in May, and now it appears he had an accomplice. Also announced yesterday were charges against Jabari A. Caldwell, 21, who is accused of helping Montimere enroll in high school.
Caldwell, who also claimed to be Montimere's half-brother, has not been arrested. Montimere is being held on $75,000 bond.
The sexual assault counts stem from a relationship Montimere allegedly had with a 16-year-old girl at his new high school. He reportedly had sex with the girl when she was 15 and he was 21.
Permian coach Danny Wright, who took Montimere under his wing and even let him stay in his home after the hustler told him he was homeless, hopes the case doesn't adversely affect the rest of his team.
"Right now my concern is with my kids that's in the program," Wright told the American. "I'll do everything in my power for it not to be (distracting), but I'm sure it will be."
Montimere is expected to be arraigned on June 16.