A suspect in the shooting of a sheriff's deputy in north Florida was killed during a shootout with a homeowner after a Blue Alert had been issued Tuesday night, officials said.
Taylor County Sheriff's Office Deputy Troy Anderson was conducting a routine traffic stop and was walking up to a vehicle when he came under fire around 10 p.m., officials said at a news conference Wednesday. The suspect fled the scene.
Anderson was taken to a local hospital where he underwent surgery and was in stable condition Wednesday.
Not long after the shooting, a Blue Alert was issued for 33-year-old Gregory Miedema, a suspect in the deputy's shooting, and a statewide manhunt began.
Stay informed about local news and weather. Get the NBC 6 South Florida app for iOS or Android and pick your alerts.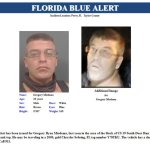 Around 7 a.m. Wednesday, authorities said deputies responded to a home in nearby Dixie County after a homeowner said he'd been involved in a shootout with a man who'd entered his home.
When deputies arrived, they found Miedema, who was pronounced dead at the scene. Nearby were his vehicle and firearms, officials said.
The homeowner suffered minor injuries and was hospitalized, officials said.
Miedema was a registered sex offender and was convicted in 2011 of one count of lewd or lascivious battery, intercourse with a victim 12 to 15 years old and one count of possession of child pornography while he was in the U.S. Army.
He had two residences listed in Lee County, located in southwest Florida, according to NBC affiliate WBBH-TV.
The incident remains under investigation.
The Blue Alert was the 4th issued in Florida since their inception in 2011.