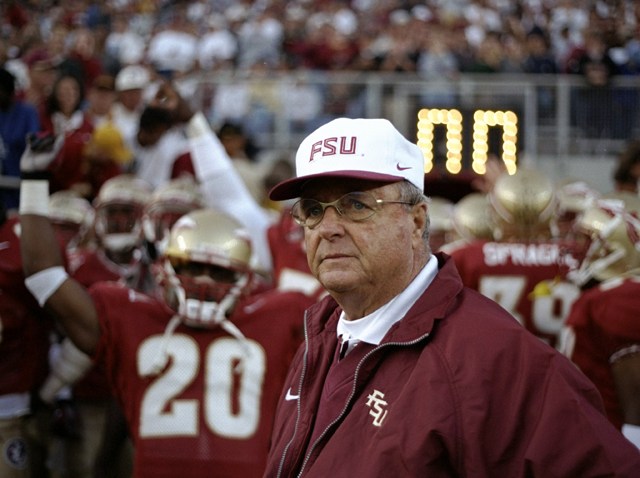 The Florida State vs. University of Florida rivalry has been called one of the best of all time. But apparently all can be pushed aside when it comes to one of Florida football's most famous faces.

Bobby Bowden, who coached the Seminoles for 34 years, was back in the Sunshine State this Saturday for the first annual Battle of Florida. The college all-star game featured NFL Draft-eligible players who were either born in Florida or played high school or college football in the state. Bowden's North team defeated a fellow Floridian's, Howard Schnellenberger's, South squad 51-3. But before heading on the field for the first time since retiring in 2010, we sat down the award winning coach at Duffy's Sport Grill in North Miami Beach to discuss football and one of his former rivals, Tim Tebow.

Niteside: This is the first time you have coached since your last game in '10. Do you miss it at all?
Bobby Bowden: No. Actually, I don't miss it. I am 82. It was time for me to retire.

It has to be nice to be back on the sideline.
It's good. Really, I am just standing there. Those younger guys do most of the coaching. A lot of people give all the credit to the head coach. Really, all we do is occasionally solve some problems, but some how get all the glory.

If you had to pick your favorite moment at Florida State University, what would it be?
People ask me that all the time. We had a lot of great wins against Ohio State, Michigan, Auburn, Alabama -- so many great wins, it hard to pick one. My favorite year would be 1977. It was my second year and we had a losing year the year before. In '77, we won 10 games, were nationally ranked and went to a bowl game to beat Texas Tech. That was such a good year.

You were coaching when Tim Tebow was at the University of Florida. Watching him then, did you think he would be quarterback of the Denver Broncos?
I didn't know what to think. I know he beat us every time we played him. I knew he was a great quarterback. Didn't know if he would make it in pro ball. I thought if someone would give him a chance, that he was determined enough to make it. The kid is a winner. What he has done this year is amazing.

He gets quite a lot of backlash.
It's because of the way he throws the ball. The people that criticize are perfectionists saying that because of his delivery, he can't survive. It ain't over till its over, though. His heart is so big, it will overcome all that.