Hours after the body of a young girl was discovered floating in a canal in Lauderhill, investigators found the body of another girl in the same canal Tuesday night.
Lauderhill Police received a 911 call about the second body in the 2200 block of Northwest 59th Way at around 8:45 p.m. Officers did not have a description or identification.
The first discovery was made in a canal in the 5900 block of Northwest 21st Street. Officials said officers responded around 12 p.m., shortly after receiving a 911 call about the body.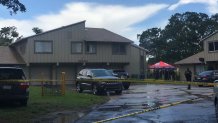 Police said the girl was between the ages of 10 and 13 and was wearing short jean shorts with a gray shirt reading "Dance" in rainbow colors. Officials said they don't know how long she had been in the water.
Investigators believe they have possibly identified the first girl but are not releasing her name yet because they are in the process of notifying family members.
Police said Tuesday night this case — which was being investigated as a missing persons case — is now a death investigation. It's not yet clear if the two girls are related.
"This is unfolding for us and it's very tragic because it is two young females, two juveniles from our community, in our city, that have been found deceased, and that is something serious," Lauderhill Police Lt. Mike Santiago said.
Lawana Johnson said she called 911 after she saw one of the bodies in the canal earlier Tuesday.
"It hurts. It's like you seen your own child floating in the water," said Johnson, who has lived in the area for four years. "It's shocking to me, it made me cry."