After the new FIU pedestrian bridge was lifted into place on March 10, contractors completed the process of adjusting the tension in steel cables that pass through concrete on the span before traffic was reopened on Southwest 8th Street early morning Monday, March 12.
That was to be the end of the so-called post tensioning process on the bridge, according to one source close to the project.
But then chief engineer W. Denney Pate, with FIGG Bridge Engineers, grew concerned about cracking on the north end of the span, alerting the Florida Department of Transportation on Tuesday, March 13 that "the cracking is not good and something's going to have to be … done to repair that."
But, Pate continued in a voicemail to FDOT that was not heard until after the collapse, he was "not concerned about it from … a safety perspective."
During a two-hour meeting Thursday morning between Pate and representatives from FDOT, FIU and the builder, Munilla Construction Management, Pate "delivered a technical presentation regarding the crack and concluded that there were no safety concerns and the crack did not compromise the structural integrity of the bridge," according to a statement from FIU.
After the meeting, the post tensioning resumed on two cables that passed through a diagonal support truss on the north end of the bridge.
And it was during that tightening of cables that disaster struck.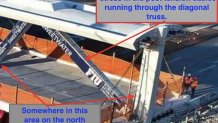 One of the workers for the post tensioning subcontractor, VSL, Navarro Brown, was hurtled from the top of the bridge canopy - where the stress adjustments were being made with a jack - to his death in the rubble below.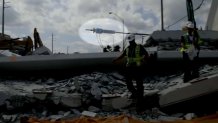 The National Transportation Safety Board investigator in charge, Robert Accetta, said Friday it appeared the structural failure occurred on the north end of the bridge where the post tensioning was taking place.
But he could not say whether the cracking indicated a deeper structural problem that caused or contributed to the failure.
"I would have to say that a crack in the bridge does not necessarily mean that it's unsafe," Accetta said. "I know crews were out there inspecting it and they were applying tension to strengthen a member. I don't know if that was related to the cracks that were discovered."
MCM and FIGG have said in statements they are cooperating with the NTSB investigation.
FDOT has not identified the employee who did not get the voicemail about the cracking until three days after it was left; nor has the agency provided any detail about what its consultant heard in the Thursday morning meeting, other than to say no one expressed concerns about safety or asked FDOT to close 8th Street during the repair work.