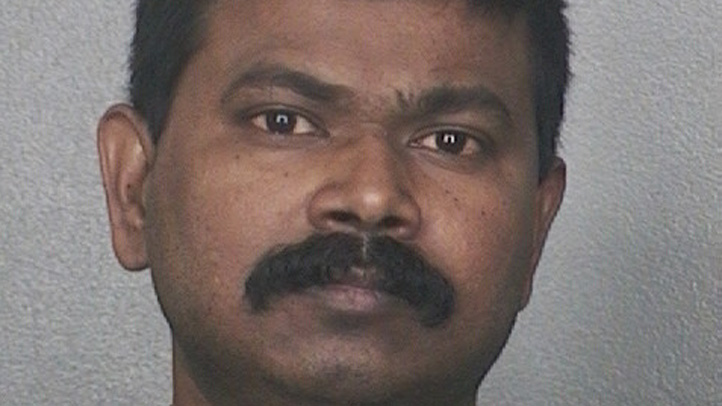 A Broward Health nurse has been arrested for allegedly drugging and sexually abusing a patient, officials said.
It started on June 14th when the unidentified adult female victim met 42-year-old nurse David Paul Lazarus who offered to take her outside to smoke a cigarette, according to a Fort Lauderdale Police arrest report.
Lazarus, who was not the victim's nurse, started to talk to her about past drug abuse and asked her if her medications were working, police said. He then gave the victim two syringes of what he said was morphine and 40 milligrams of Oxycontin that she took, the report said.
Once she had taken the medication, Lazarus shut the door to the victim's room, closed the curtain and forced her to perform oral sex on him, saying it would be quick, according to police.
Man Pistol-Whipped Dunkin' Employee Over Order: Video
Although the victim said she didn't want to, she told police she was on medication that made her very sleepy and he continued, the report said.

The victim returned to the hospital two days later, and Lazarus was assigned as her nurse, police said. He offered to give her a larger amount of pain medicine at one time than what was prescribed and proceeded to give her a large dose of Dilaudid, officials said.
The victim told police she did not want the drugs, since she was just out of rehab when she went to the hospital for kidney stones, but she quickly began to feel the effects of the medication, according to the report.
Authorities say Lazarus then forced her to perform oral sex on him for a second time.
The victim contacted police and called him at the request of detectives. During the calls, Lazarus admitted to knowing the victim and agreed to bring "something" when she asked him to bring drugs, the report said.
Facebook Posts Lead to FIU Fraternity's Suspension

He was arrested Wednesday when he showed up to meet the victim with unknown narcotics in his vehicle, authorities said. While he denied any sexual contact with the victim, he admitted to flirting with her over the phone and agreeing to meet her, according to police.
Lazarus is being held without bond on two counts of sexual battery at the Broward County Main Jail. It is unknown whether he has an attorney.
"We were informed of a patient allegation against an employee. We have a responded by initiating a through review of the allegation," Broward Health Medical Center said in a statement.
More Local Stories: