Fire crews continuing working to put out a large grass fire burning in southwest Miami-Dade since the weekend.
Tuesday morning, Florida Forest Service officials said the blaze is still at 2,500 acres and around 50 percent contained. They say crews spent most of Monday keeping the flames away from power lines and will continue that task this morning.
Drivers are being kept from going eastbound on Southwest 344th Street at 117th Avenue as officials are working to keep the fire in one area. The fire is burning on Southwest 344th Street and 101st Avenue near the Turkey Point Nuclear Power Plant and the Homestead-Miami Speedway.
Officials say neither location is in danger as the fire is currently just in the brush - however, concerns still remain about smoke getting in the between the lines and causing a power grid to blow.
The fire started late Sunday night, Florida Forestry officials said, and smoke from the grass fire was picked up on First Alert Doppler 6000.
"It's that time of year; we come out and put the best foot forward and try to get it done and these guys come out and work hard at it," said Terrance Gadson, Florida Forest Service.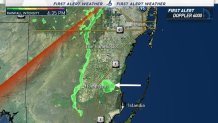 State officials say 170,000 acres in Florida have burned from wildfires since the start of the year.
Florida Agriculture Commissioner Adam Putnam said that more than 127 active fires were burning in Florida as of Monday.
Since the start of 2017, there have been more than 2,100 wildfires in Florida.
Putnam says drought conditions and high wildfire danger will continue for some time since May is traditionally one of the driest months of the year in Florida.
Copyright AP - Associated Press