Detectives with the Broward County Sheriff's Office are looking for a man who sexually assaulted a worker at an Oakland Park spa early Monday morning.
The incident happened at around 4:30 a.m. at Massage Spa 101 on Oakland Park Boulevard, the Broward Sheriff's Office said in a news release Wednesday.
"She does her best to fight him off, but he overpowers her and sexually batters her," said Veda Coleman-Wright, spokesperson for BSO.
Surveillance video shows the suspect talking with the victim then pushing her into a back room. Investigators say the suspect pretended to be a customer and asked about spa services.
"At some point, he gets upset about the pricing, Coleman-Wright said. "There's a dispute about the pricing between he and the employee."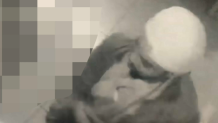 Minutes after the brutal attack, investigators say he walks off.
"Very shocking, I did not expect anything like that to happen at this building," said Natacha Guichard who owns a business a few doors down in the plaza.
Guichard says what happened Monday could've happened to anyone.
"My assistants, my employees working here are ladies," she said. "They're young ladies, and I'm a lady too. It's scary."
Guichard says it's so scary and that she's thinking about installing extra security cameras outside her business.
"I'm thinking of putting something here to make sure if there's anything happening in front of my door, we know at least what's going on," she said.
It's a safety measure Shaenicole Stanley, who owns a salon next door, also plans to take.
"It is a very uneasy feeling because as a woman, you just want to make sure that you're safe," Stanley said.
Investigators are asking anyone who may have information or recognize the subject to contact BSO SVU Detective Stephanie Simmons at 954-321-4228. Tipsters who wish to remain anonymous can contact Broward Crime Stoppers at 954-493-TIPS (8477) or online at browardcrimestoppers.org.