A California woman who disappeared while vacationing in South Florida has been found alive, Miami Police officials said Thursday.
Angela Morrisey called 911 Thursday morning from Medley to report she was a missing person and was in need of medical attention, police said.
Morrisey was taken to a local hospital and discharged before she was interviewed by detectives, officials said. After the interview, Morrisey was taken to a medical facility to undergo treatment for a non-life threatening condition, officials said.
"At this time, the Miami Police Department's investigation into Ms. Morrisey's disappearance has been closed," the department said in a statement.
Stay informed about local news and weather. Get the NBC 6 South Florida app for iOS or Android and pick your alerts.
Morrisey, a 23-year-old mother of two, was visiting from Sacramento and had been last seen on March 28 at Bayside Market Place.
According to a missing person report filed on March 29, her fiancé, 23-year-old Amir El-badry, stated he saw her around 8 p.m. the night before when she said she was going to the bathroom and never returned.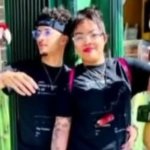 El-badry took an Uber back to their Airbnb in Miami Beach hoping she had traveled there, but she was still not there and he notified police.
Police said El-badry and Morrisey's mother, who traveled from Arizona to South Florida to search for her daughter, have been notified that she was found safe.