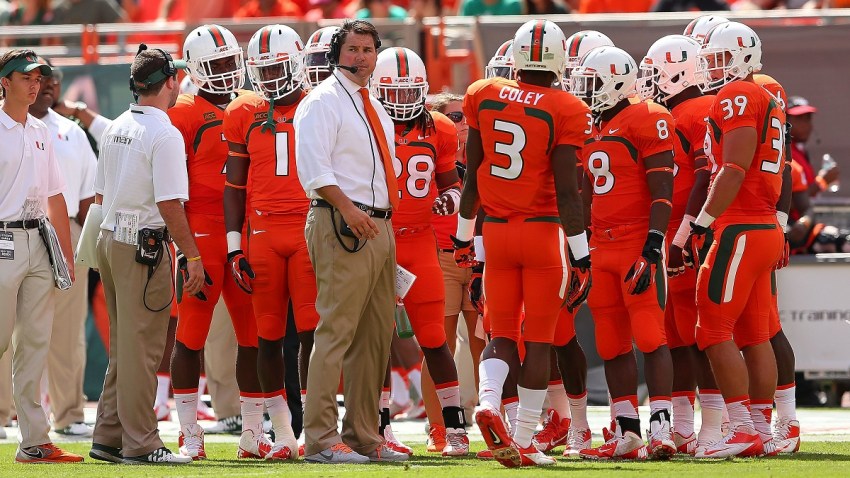 The Miami Hurricanes are on the road this week against ACC rivals Duke. The Canes will try to shake off a two-game losing streak, while Duke aims to take control in the race for the ACC Coastal Division championship.
"They're winners of five in a row," Miami coach Al Golden said this week. "Obviously a very veteran team and a team that doesn't beat themselves."
With last week's loss to Virginia Tech, Miami lost the inside track to the ACC Championship Game. They will need to win their last three games and hope that Virginia Tech trips up along the way if they want to play for the school's first ever ACC title.
When the Canes have the ball: Miami QB Stephen Morris has struggled since getting off to a hot start this season. In his past four games he has completed only 57% of his passes with 5 touchdowns against 6 interceptions.
He might get one of his favorite targets back this week, though. WR Phillip Dorsett, who partially tore an MCL against North Carolina last month, was upgraded to doubtful on Miami's injury report. Miami will also look to re-establish the rushing game against Duke. Last week, the Canes gained only 28 yards on the ground (1.2 yards per carry) in their first game since superstar RB Duke Johnson was lost for the year to an ankle injury.
Duke, perennially one of the worst defensive teams in the country, has improved under coach David Cutcliffe. The Blue Devils are in the top half of FBS, allowing 368 yards per game. Safety Jeremy Cash leads the team with 4 interceptions, while DL Kenny Anunike has 10 tackles for loss to go with 4 sacks.
When the Blue Devils have the ball: Duke is averaging 409 yards and 33 points per game on offense. QB Anthony Boone is completing 62% of his passes but has 9 interceptions to just 5 touchdowns.
WR Jamison Crowder is among the best in FBS with 67 catches for 903 yards. Duke uses a running back committee consisting primarily of Brandon Connette, Jela Duncan, and Josh Snead. They have combined for 1,012 yards on 213 carries (a 4.75-yard average).
The Canes are coming off two dismal performances on defense. Virginia Tech gained 549 yards and scored 42 points last week, while Florida State scored 41 points on 517 yards of offense the week before that. "It's really important as a staff and as an organization to push forward," Golden said.
Who has the edge? Without Duke Johnson, Miami is a different team on offense. Unless the defense can return to producing multiple turnovers, it will be difficult for Miami to pull off a win on the road.
The Pick: Duke 34-Miami 21
Kickoff is at 3:30pm ET with coverage on ESPNU.