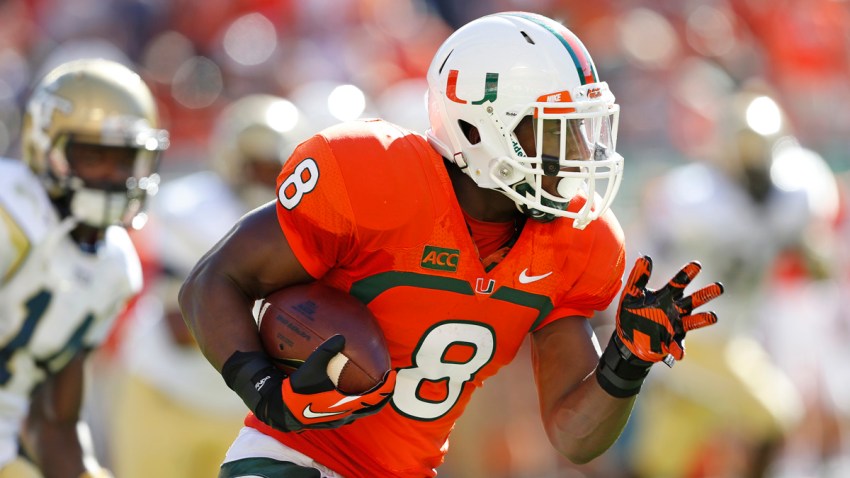 The 10th-ranked Miami Hurricanes play under the lights at Kenan Memorial Stadium Thursday night, visiting their ACC rivals in Chapel Hill for a clash with the Tar Heels. Miami has a chance to improve to 6-0, while the 1-4 Tar Heels look to turn their season around with an upset.
"We're going to be facing a great challenge and an excellent team on Thursday night," UM coach Al Golden said this week. "As I said to the guys all along, records really don't matter. Records are talking about the past. We know what type of team we're going to see from Chapel Hill on Thursday."
The Tar Heels have struggled out of the gate against a tough schedule, with losses to South Carolina and Virginia Tech. They will have their work cut out for them, as Miami enters the midpoint of the season with the 9th-best scoring defense and scoring offense in the nation.
When the Canes have the ball: Sophomore RB Duke Johnson has not suffered any setbacks following his stellar 2012 season. He is averaging 6.8 yards per carry and has been a force on special teams, gaining 30.5 yards per kick return.
He has helped open up the field for QB Stephen Morris, who got a chance to rest his injured right ankle last weekend when the Canes had a bye. UM's coaches would like Morris to improve on his 61.7% completion rate, but his 10.1 yards per attempt and 9/4 TD/INT ratio have helped him put up the ninth best passer rating in FBS this season.
The Canes want to keep Morris healthy, though, and that means keeping LBs Norkeithus Otis and Darius Lipford out of the backfield. They have combined for 5.5 sacks and 10.5 tackles for loss. The Heels are giving up 197 yards per game on the ground, putting them near the bottom of FBS in rush defense.
When the Tar Heels have the ball: UNC expects to have QB Bryn Renner back under center after he missed the Heels' last game with a foot injury. He has completed 60% of his passes for 1,117 yards, and his favorite target has been TE Eric Ebron (23 catches, 333 yards, 2 TDs).
The Tar Heels have struggled running the ball, gaining just 2.9 yards a carry as a team. This has forced them into plenty of second- and third-and-long situations, something in which the Canes have thrived this season. Miami is 6th in FBS with 3.6 sacks per game, while the Heels are giving up 2.2 per game.
The Canes have also forced 16 turnovers, and UNC can ill afford to set up Miami's potent offense with good field position via giveaways. The Canes are giving up 4.5 yards per play, 11th fewest in FBS.
Who has the edge? UNC will come out with a lot of energy at home, but Miami is looking like the class of the ACC Coastal division. This one could get out of hand in a hurry.
The Pick: UM 34-UNC 10
Kickoff is at 7:45pm ET, with coverage on ESPN.