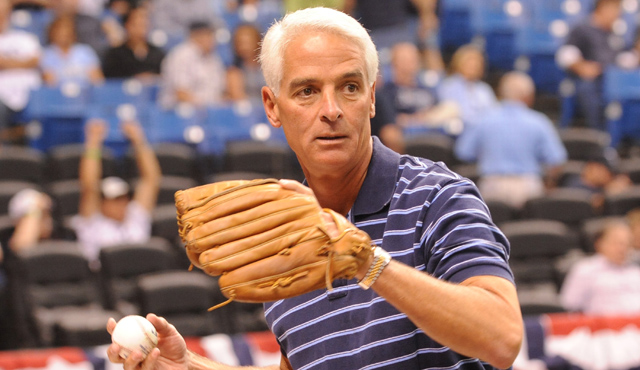 Florida's Republican Gov. Charlie Crist will announce his 2010 political plans next week, and the head of the state Republican Party said Sunday that he believed Crist would run for U.S. Senate instead of seeking another gubernatorial term.
Crist's plans have been the subject of speculation since shortly after Republican Sen. Mel Martinez announced in December he wouldn't seek a second term. Republican Party of Florida Chairman Jim Greer said the long anticipated announcement would be made Tuesday.
"I believe that Charlie Crist has concluded that the problems and issues that Floridians are facing -- high unemployment and the economy -- can't be solved in Tallahassee, they need to be solved in Washington and I believe that's what he's going to do," Greer told The Associated Press.
"He's going to go up there and fight for Florida in Washington every day just as he fights for Floridians every day in Tallahassee," Greer said.
He also predicted Republican leaders nationally would quickly get behind Crist's run.
"I think the support and the endorsements that Charlie Crist will get for this office will be overwhelming and will come from all different persons and positions across this country," said Greer.
The only other major Republican in the race is former House Speaker Marco Rubio, who announced his plans last week.
Crist ran for the same Senate seat in 1998, losing to popular Democratic incumbent Bob Graham in a race that gave Crist statewide name recognition and a grassroots network. That helped him win the education commissioner's race in 2000 and the attorney general seat in 2002 before beating Democrat Jim Davis in 2006 to take his current position.
Tuesday's announcement won't be a major production, said George LeMieux, who ran Crist's 2006 gubernatorial race and later served as his chief of staff before leaving for a private law practice.
"He's focused on doing his job right now, so this is not going to be an event with 5,000 people. You'll hear his intentions in a very low-key way as he continues to do the business of the people," LeMieux said. "He's going to spend most of his time doing his job as governor and being the best governor he can be because I know that's his focus."
LeMieux also hinted at a Senate run.
"Florida and America are at a crossroads and I think you'll see that Charlie Crist's decision reflects that," he said.

Among Democrats in the race are U.S. Rep. Kendrick Meek and state Sen. Dan Gelber, both from Miami-Dade County.
Greer is expected to play a significant role in Crist's campaign even while serving as state party chairman, said Akshay Desai, a top party contributor who said he has spoken to Crist about the announcement.
If Crist runs for Senate, it's expected that state Chief Financial Officer Alex Sink, a Democrat, and Attorney General Bill McCollum, a Republican, will run for governor, leaving their seats open. Agriculture Commissioner Charles Bronson, who can't run for re-election because of term limits, has said he will run for governor if Crist goes for Senate.
Copyright AP - Associated Press