A child battling a serious medical issue got the wish of his lifetime Tuesday when he was able to be a Miami Police Department officer for the day.
Make-A-Wish Southern Florida helped grant the wish of 10-year-old DJ Daniel, a native of Texas battling a brain tumor. The youngster told the organization his dream was to be a member of the department.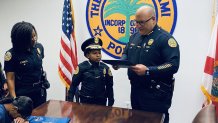 Daniel was issued his own uniform and sworn in as an honorary chief for the day. He was able to ride in a squad car and participate in active training while interacting with police dogs and horses.
"My favorite thing was just him being happy, and to see how everybody put things together," said his father Theodis.
In a surprise visit, the basketball-loving child also got to spend time with longtime Miami Heat forward Udonis Haslem.