A small child fell from a second-story window at an apartment building in Opa-Locka Friday, Miami-Dade Fire Rescue said.
The incident happened around 5 in the afternoon on Northwest 135th Street and 24th Avenue.
Paramedics said the child's injuries don't appear to be of traumatic nature, however, the child was airlifted to the Ryder Trauma Center. The child's mother is shaken, but relieved he's alive.
"My baby is okay. He's okay. He's an angel. There's no way he's going to snap his neck."
NBC 6 obtained surveillance video that shows the child falling to the ground. The 2-year-old, who was identified as Kevin Wright, was breathing after the fall, according to a family friend.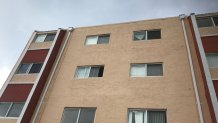 A family friend told NBC 6 that the reason why the baby fell through the window was because she has a broken air conditioning unit.
"No AC! It's uninhabitable. You come here and you don't want to stay here. Trust me, it's hell. I ain't do nothing to my baby."
However, the landlord at the building says that's not true, painting a very different picture.
"I feel that this is highly suspect," said George Howard, the landlord. "If anyone has an AC problem, all they have to do is come down to our management and get forms to sign up and management will attend to it immediately."
The manager also claims they haven't paid rent for a year.
"That's not true," said Paul Embury, the building manager, "We have a lot of complaints in this building because we are evicting 22 of the 48 residents who many have not paid rent for a year."
It's a "he-said, she-said" situation, but those who witnessed the chaos are grateful the child survived the terrifying drop.
An investigation is now underway as to how exactly the incident happened.