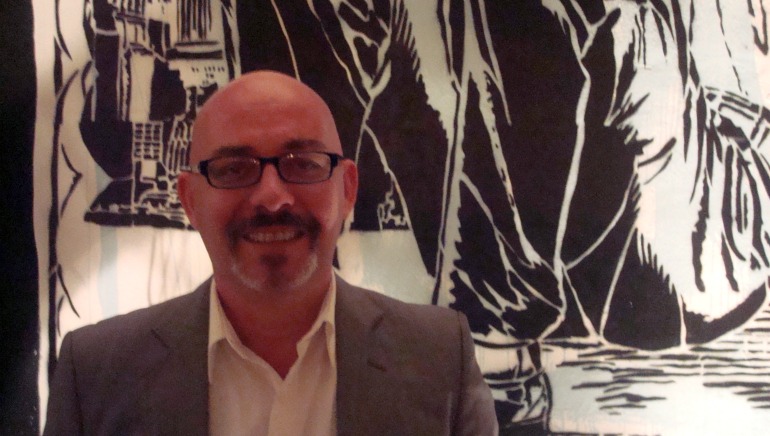 It lies at the very heart of the art that is Wynwood; in fact, you could say it serves as its center. It is Wynwood Kitchen & Bar, the meet, greet and eat spot that fronts that spectacular compound simply called The Wynwood Walls. Since Basel for last, WKB has become -- with its sister Joey's -- the go-to spot for those looking to be in the thick of all that's hot in the 'hood. Niteside got Paris-born GM Christophe Chalange to add to the know.

How long have you been in the Miami? Just over a year. Prior to that I spent 15 years at The France Pavillion in Epcot Center.

How'd you land the top spot at WKB? A good friend of mine told me about the place and that they might be seeking a manager. I'd been looking to move to South Florida anyway, and this seemed like the perfect fit.

How's it feel working amid such splendor as The Walls? It's incredibly exciting to be surrounded by a new type of modern art. Growing up in Paris, of course, means art is part of everybody's life. This though is a spectacle even Paris doesn't have.

Do you have a favorite among the many murals? Hmm, tough question. Kenny Scharf's mural, which is on WKB's outer south wall, and the mural from the German twins How & Nosm, which is on Peter Tunney's outer south wall.

Speaking of favorites, what are WKB's biggest sellers? I'd say the chicken ropa viejo empanadas and the coconut upside down cake are certainly two of the most popular beginnings and endings. Main-wise, it's probably chef Miguel Aquilar's signature scallops, which come pan-seared with crispy polenta, tomatoes and feta.

What about special series, what's regularly goin' down at WKB? Once a month we've got Musing with Myra -- in fact, the next one is this Wednesday, and on Fridays we've got live music outside on the patio. Last Saturday night we had the Arthur Barron Trio inside, which, with our new baby grand piano, turned out to be fantastic. Hopefully that too will become a regular feature.

Anything else we need to know about WKB before you go-go? Only that we've got a great international team -- Tony Puche, who co-manages with me, is from Colombia, our head chef is from Venezuela, our sous chef, Daniel, is from Gainesville, and the rest of our staff comes from all four corners of the world. It really adds to the world class art that surrounds us -- and to the worldwide set of our patrons.

Wynwood Kitchen & Bar is located at 2550 NW 2nd Ave Wynwood. For more information log on here.