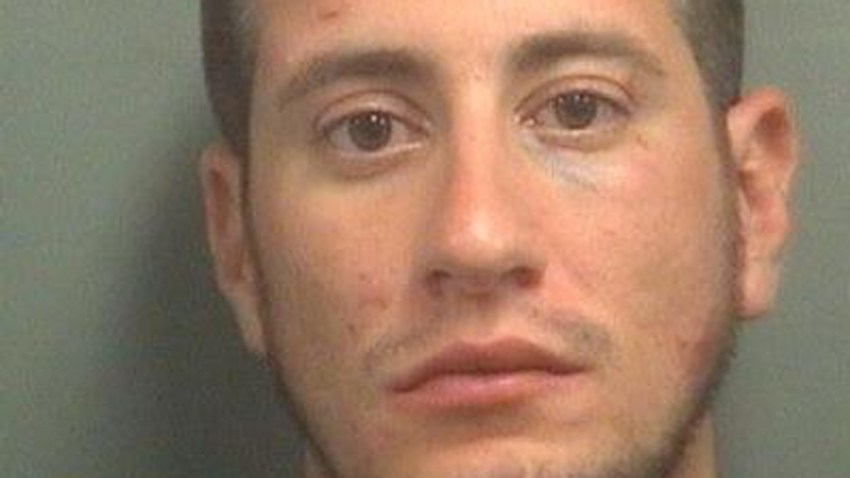 A Lantana man is being held on $10,000 after police say he impersonated a cop while trying to get his money back from an escort.
Ian Naveira, 28, is charged with impersonating a law enforcement officer Tuesday, according to Lantana Police.
Just before midnight, Naveira knocked on the door of a Super 8 Motel room where Jordan Vaughn and girlfriend Amanda Seal were sitting inside, an arrest report said. Naveira unzipped his jacket revealing a tactical police-style vest which displayed a badge and identified himself as a police officer, the report said. He was also wearing a baseball cap with a badge and clutching a holster at his hip, police said.
Naveira closed the motel room door and said he was investigating illegal activity, but the two victims didn't buy it, according to police. They told officers that, "based on previous experiences," they knew this was not a real cop, the report said.
Seal told police Naveira seemed impaired and asked him for identification or she would call police. He told her to go ahead and call, that other police officers were waiting outside, according to the report.
That's when Naveira fled, police said. Vaughn caught up with him in the motel's parking lot and a fight ensued, according to the report.
When police arrived, Seal revealed she was on felony probation for a drug violation and that she had been working as an escort before quitting the day before, the report said. She said Naveira may have called her a day earlier in response to a Backpage.com ad for escorts where he agreed to pay her $80 for sex, the report said.
In a separate interview, Naveira told police he had met Seal earlier that day at the same motel room, but Vaughn had taken his money and made him leave without sex, according to the report. Naveira figured he could return and pose as a cop to get his money back, police said.
He took the hat, vest and holster from his father, an investigator with the U.S. Department of Agriculture, and went to the motel with his girlfriend, Alaixa Conran, officials said. Conran, who waited in the car while Naveira went up to the motel room, told authorities she did not see him wearing the uniform and that she only knew they were going to the motel to recover some money, the report said.
More on NBC6.com: