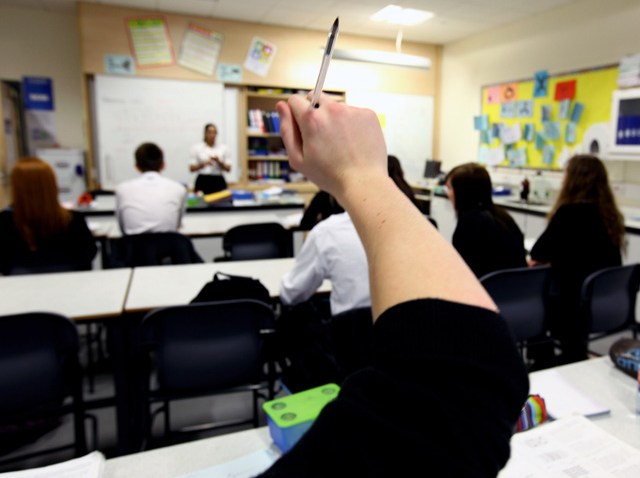 Call it the law of unintended consequences.
Back in 2002, in a different economic universe, voters approved an amendment to Florida's constitution which strictly limits class sizes in public schools. But now that it's time to pay the bill, there's not enough money in the bank to comply with the law.
School districts must be in full compliance by mid-October, but Broward and Miami-Dade don't have anywhere near the amount of money needed to hire enough teachers to solve the problem.
"The State Board of Education estimated that several hundred million dollars were necessary to accomplish that, but the Legislature only allocated $85 million, of which our share was roughly $15 million, so there's a big shortfall," said Dr. Richard Hinds, CFO of Miami-Dade Schools.
This comes on top of three straight years of budget cuts from Tallahassee, years in which our local school districts have been forced to cut hundreds of millions of dollars. So to comply with the class size law, districts are trying everything, thinking outside of every box, pulling every string.
"You have to learn the fine art of juggling," says Dr. Matthew Welker, principal of Michael Krop High School in northeast Miami-Dade County.
Welker grapples with this issue every day, trying to figure out where to move students when a class is over the limit, trying not to ruin a student's schedule in the process, especially when some classes are only offered once.
"So if you try to balance, let's say mathematics," Welker says, "that domino is going to fall and it's going to impact language arts, science, social studies and the electives and it becomes very difficult. In some cases it feels like you're robing Peter to pay Paul."
They've got some kids taking classes on-line to relieve pressure in the classroom. Coaches and guidance counselors are teaching classes, but it's just not enough.
"At the end of the day, it comes to a point where you've exhausted all of the tricks, so to speak, and it comes down to more teachers, more classes, more money," Welker says, before acknowledging that more money is simply not available.
NBC Miami visited one honors physics class with 25 students, which is right at the limit.
If one more student transfers in, the district would have to pay a penalty. The fine is $3,800 for every pupil over the limit.
In effect, the district would have to pay a fine to the state, which underfunded the school district in the first place.
They're expecting to incur millions of dollars in penalties, because that's actually cheaper than trying to find $40 million to hire enough teachers to comply with the law. It's all extremely frustrating to administrators.
"Pushing a boulder up a hill, you almost get to the top and the boulder rolls you back down again," said Dr. Hinds.
The class size amendment is effecting just about every public school in South Florida. Dr. Hinds said no other state has such stringent class size requirements, and Florida just happens to be near the bottom of the nation in the amount it invests in public education.
"You could almost do an inverse relationship, as the funding's gone down, the requirements have gone up," Dr. Hinds said.
There doesn't appear to be any light at the end of the tunnel. In fact, the situation could get worse because Miami-Dade was able to hire 500 teachers with federal stimulus money. Those dollars run out after next year.
Without officially endorsing Amendment 8, which is on the ballot in November, Dr. Hinds said having a little wiggle room on class sizes, which the amendment allows, could really help alleviate the crisis.
One of the ironies here is that all the educators NBC Miami spoke to support lower class sizes. They just expected to have the money to pay for them.