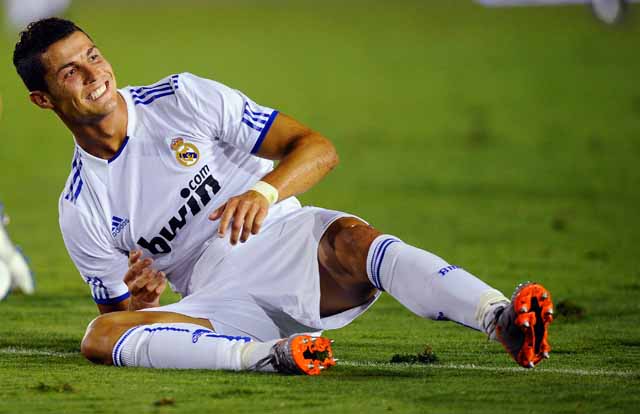 Real Madrid forward and international soccer star Cristiano Ronaldo recently came to the defense of a fan who rushed the pitch at Sun Life Stadium, asking that charges be dropped against the student who only wanted to give him a hug.
On Friday, the Miami Herald obtained a copy of a letter Ronaldo wrote on behalf of the 19-year-old fan, who faces trial on Monday for trespassing and disorderly conduct.
"I was playing at Sun Life Stadium last month when a fan entered the field," the letter reads. "His name is Ronald Gjoka, a young college student. We hugged, and we spoke for a while, until security arrived to escort him off the field. He was not aggressive or violent in ANY way. In addition, he did not resist security or police in any possible way."
Ronaldo expressed concern that Gjoka could find his immigration status in jeopardy due to the incident. He is an Albanian native and Canadian citizen attending Palm Beach Community College on a student visa.
"I am concerned because I understand he may face potential problems with Immigration and with his college if the criminal charges against him are not dismissed," Ronaldo explained. "I understand your position and the importance of enforcing rules and laws. However, I respectfully request that you and your office reconsider this decision and dismiss the two criminal charges this young man faces."
Ronaldo wrote the letter after Gjoka's attorney, Richard Hujber, contacted the Portuguese firm of Morais Leitao, Galvao Telex, Soares da Silva, who represents Ronaldo.
During the incident, Gjoka ran onto the pitch during the second half of an International Champions Cup Championship match between Real Madrid and Chelsea. Gjoka hugged Ronaldo and told him that he admired him. After about 30 seconds, Gjoka was escorted off the pitch by stadium security.
"I'm hoping the stadium officials will decide to dismiss these charges because the kid has no prior record, was not drunk or high, was not violent in any way," Hujber told the Herald. "It was stupid what he did, but he's a really bright kid, and I would hate for these low-level misdemeanors to affect his academic future or perhaps his immigration status."
The letter might not make much of a difference, though, according to state attorney's office spokesman Ed Griffith. Because Ronaldo is not the party pressing charges, his letter may have no bearing at all on the case, he explained.