The monthly tradition known as Critical Mass, when thousands of bike riders take over the streets of Miami and Miami Beach, returns Friday night.
Thousands of cyclists will take part in the 19-mile event starting at 7:15 p.m. at the Government Center in Downtown Miami. The route will take participants through areas including Wynwood. North Bay Village and back across the Venetian Causeway – ending at Omni Park several hours later.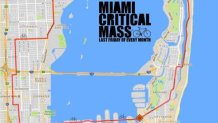 Police from each city will be present to ensure that the ride goes safely and both drivers and bikers obey all laws on the road. For more information on the event and its rules, visit the Critical Mass website by clicking on this link.