South Florida became the birthplace of a new awakening of self-love and self-acceptance with the launch of the "Curvy, Curly, Conscious Tour" this weekend. The movement, led by actress and social media personality Shelah Marie, aims to spread the message of female empowerment, self-healing and internal connectivity.
"Curvy, Curly, Conscious Tour" kicked off its multi-city "Self-Love Day Party" Saturday at the beautiful Macaya Gallery in Wynwood. The event is an opportunity for women to connect with their inner self while bonding with one another. The party is an all-day affair with a number of activities, including a panel discussion, Qoya session and meditation hour led by Shelah Marie.
Every session offers an escape from the daily external distractions and allows one to dive deep into self-reflection to, hopefully, find clarity. Attendees at Saturday's inaugural stop were pampered with a DIY body scrub bar, a massage corner and delicious healthy organic eats. The event is truly a utopic space for women who are yearning to become centered and immersed in their inner peace.
The panel discussion featured a group of female empowerment leaders based in South Florida. Shelah Marie led the panel, which included relationship coach Dani Spikes, brand strategist Quadeera Teart, WEDR-99 Jamz host Supa Cindy, meditation enthusiast Aisha Thalia and organic/holistic beauty blogger Nilly Earth.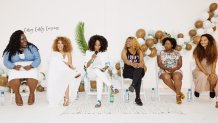 The "Curvy, Curly, Conscious" movement started in 2016 when Shelah Marie hosted her first meditation and self-love event in Miami. Since then, her fan base has exponentially grown, prompting "Curvy, Curly, Conscious" to tour nationwide. The "Self-Love Day Party" makes stops in Atlanta, Chicago and Los Angeles this summer. The group says its ultimate purpose is to motivate women to strive daily to become better, more mindful individuals.
"So many women have reached out to us and thanked us for starting this empowerment journey," Shelah Marie said. "Hearing first-hand accounts of how our movement is helping women become more confident and self-aware, while embracing the characteristics that make them unique, is confirmation of the "Curvy, Curly, Conscious" purpose." In addition to the day party tour, Shelah Marie recently released a meditation mixtape available on iTunes and Amazon.
For more information or to buy tickets, go to Curvycurlyconscious.com.