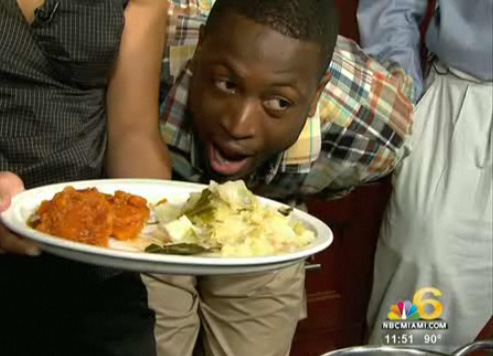 We hope Dwyane Wade didn't take LeBron James and Chris Bosh to his favorite Miami food spot during their recruitment because they might be running for a stomach pump after this one.
People's Bar-B-Que, the preferred dining choice of D-Wade, has been shut down after health officials found dead rodents and insects in the kitchen and a laundry list of other critical code violations, reports the Miami New Times.
The impromptu inspection Monday was brought on after a recent complaint by a woman who said she found maggots in her BBQ chicken meal.
Inspectors also found employees serving food with their bare hands, and none of them were seen washing them in between dishes. raw food was also stored near meat being served and storage containers were filthy but still being used.
Maybe the Miami-Dade Health Department is a new Miami Heat hater, too, or maybe People's really needs to clean up its act.
In total, 23 violations were found, the vast majority of them deemed critical. The popular soul food restaurant, which has been in business for nearly 50 years, is closed until management fixes the problems.
So for now, South Florida and D-Wade will have to find a new, more cleanly spot for barbecue.