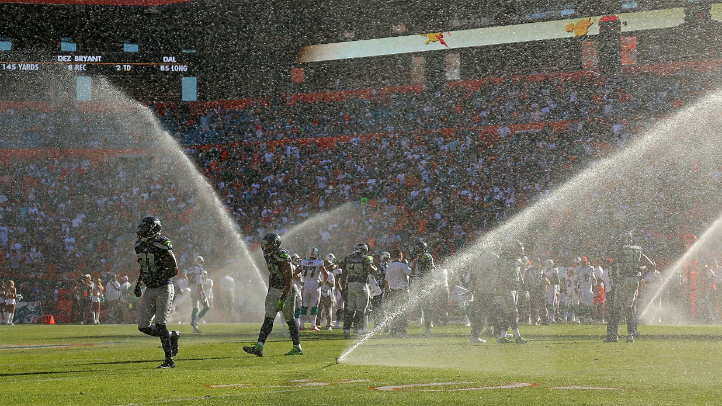 In the tense final seconds of a matchup between rookie quarterbacks, Ryan Tannehill looked like a savvy veteran.
Tannehill moved his team 65 yards in six plays to set up a 43-yard field goal by Dan Carpenter at the final gun, and the Miami Dolphins rallied to beat Russell Wilson and the Seattle Seahawks 24-21 Sunday.
Complete Miami Dolphins Coverage
Tannehill had drawn criticism for mistakes down the stretch in close games, but he came through with completions of 19, 25 and 7 yards on the final drive and scrambled for a 15-yard gain.

Miami (5-6) broke a three-game losing streak. The Seahawks (6-5), unbeaten at home this year, lost for the fifth time in six road games.
Leon Washington returned a kickoff for a touchdown for the eighth time to tie the NFL record and put Seattle ahead with eight minutes left. Miami answered with an 80-yard drive capped by Tannehill's 29-yard pass to Charles Clay, making it 21-21.
Local Stories
The Dolphins forced Seattle to punt from midfield and started at their 10 with 1:32 left. Tannehill quickly moved them downfield and finished 18 for 26 for 253 yards and a score.
Tannehill broke the Dolphins' rookie record of 2,210 yards passing set by Dan Marino in 1983.
Wilson went 21 for 27 for 224 yards and two scores, increasing his season total to 17 TD passes. He also ran for 38 yards.
NBC 6 Videos
Tannehill and Miami caught a break with Seattle leading 14-7 early in the fourth quarter. Bobby Wagner intercepted Tannehill in the end zone, but the turnover was negated by a penalty on safety Earl Thomas for roughing the passer. On the next play, Daniel Thomas scored the tying touchdown on a 3-yard run.
Washington took the ensuing kickoff on the run, found a seam, juked past Carpenter and was in the clear to score untouched on a 98-yard return. Washington tied the career record for touchdowns on kickoff returns held by Joe Cribbs of Cleveland.
The lawn sprinklers came on between plays in the third period, causing a brief delay and drawing a roar from the amused crowd. Otherwise, Miami fans had little to cheer about until the wild final 10 minutes.
Wilson eluded a sack when he bounced off Jared Odrick, then scrambled and threw a 3-yard pass to Anthony McCoy for the Seahawks' first score. On their next possession, Wilson ducked away from Tony McDaniel to elude another sack, then ran for 20 yards to set up the go-ahead touchdown.
The Seahawks went three-and-out on their first four possessions. Coach Pete Carroll played for field position, punting when his team had the ball at the Miami 40, 48 and 38.
The conservative strategy helped keep the Dolphins pinned deep, and they started outside their 20 on only one possession. Their touchdowns came on drives of 94, 82 and 80 yards.
The Dolphins broke a scoreless tie in the second quarter when they mounted a long drive capped by Reggie Bush's 21-yard run.
Seattle answered with a tying 80-yard drive that ended when a scrambling Wilson hit McCoy with 29 seconds left in the first half.
Wilson moved the Seahawks 80 yards again on their first series of the second half. He went 7 for 7 for 66 yards on the drive, including a 4-yard pass to Michael Robinson for a touchdown.
Copyright AP - Associated Press