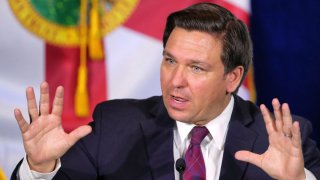 Gov. Ron DeSantis spoke again about the benefits of monoclonal antibodies Monday at a news briefing as he sets out to open treatment centers across the state in an attempt to decrease COVID-19 hospitalizations.
DeSantis was joined by officials from the Florida Division of Emergency Management at Camping World Stadium in Orlando, where the state will open a monoclonal antibody treatment site. This center aims to treat 320 patients a day, seven days a week. The treatment will be offered for free.
Download our app for iOS or Android to get the latest forecasts on the hurricane season— and sign up for alerts.
The drugs are delivered intravenously or by injection and made by Regeneron Pharmaceuticals. It concentrates doses of lab-made antibodies to fight COVID-19 and are geared toward people who are at high risk.
DeSantis mentioned good candidates were elderly people and those with chronic kidney disease, diabetes, morbid obesity and sickle cell.