A section of the dock at a waterside restaurant in Fort Lauderdale collapsed Friday, causing several diners to fall into the water below.
The collapse happened at the Flip Flops Dockside Eatery along the Intracoastal Waterway, according to Fort Lauderdale Fire Rescue.
Four people were eating outside toegether when a portion of the deck fell down underneath them, fire officials said.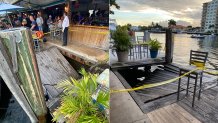 At least three people fell into the water, and they swam to a nearby boat, Fire Rescue Battalion Chief Stephen Gollan said. Boaters pulled them out of the water.
Two diners went to the hospital with minor injuries.
A city inspector will check out the structural integrity of the dock, which is closed to diners for now.