Police have identified the two women who were inside a car that fell off a ferry and into the waters of Government Cut.
Shortly before 5 p.m. Tuesday, a vehicle on a Fisher Island ferry ended up in the water, said Robert Sosa of the Fisher Island Community Association. He said it's currently unknown how the vehicle went into the water.
Coast Guard officials said Tuesday night that they found the 2019 Mercedes Benz with two unresponsive women inside.
On Wednesday, the bodies were identified as those of 63-year-old Emma Afra of Miami and 75-year-old Viviane Brahms of Harrison, New York.
Friends say Afra used the same ferry for 11 years to travel back and forth to Fisher Island.
"I just immediately felt so sad that such a tragedy had happened to such a fine person," said Julia Bianchi, Afra's friend. "It's an unbelievable shock how that happened. It will be interesting to see what the investigation reveals. After riding the ferry for so many years, you would never think something like that could happen."
She said Afra was a compassionate volunteer and supporter of the Kristi House, a treatment center for children and their families who are victims of sexual abuse.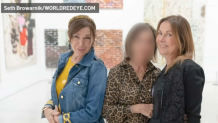 The search and rescue efforts lasted for hours, shutting down waterways to cruise ships and other vessels until early Wednesday morning.
Miami-Dade Fire Rescue conducted the dive search with the Florida Fish and Wildlife Commission assisting. The Coast Guard is leading the investigation.
Footage from Chopper 6 showed the ferry with an empty space among a row of cars as well as a broken barrier.