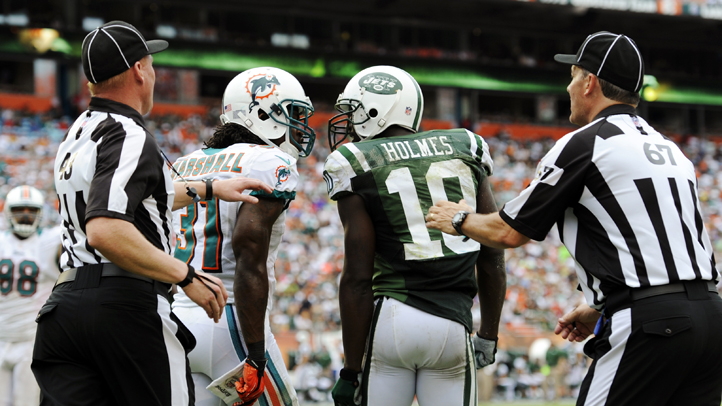 The Miami Dolphins could not find a team willing to trade for cornerback Richard Marshall, so the team released Marshall Monday evening.
NBC Sports' ProFootballTalk first reported the move. The Dolphins made an official announcement on Tuesday morning.
"I had a great time playing for the Dolphins," Marshall tweeted after being informed of the decision. "Appreciate all the love from the fans but it's time to move on.
"Good luck to all my boys," he added. "Have a safe and successful season this year."
The Dolphins acquired Marshall as a free agent before last season, but he only appeared in four games before going on injured reserve. He intercepted one pass and defended another five in 2012, adding 17 tackles.
President Obama Honors Perfect 1972 Dolphins
Miami had signed Marshall to a three-year contract, and ProFootballTalk reported he would have earned base salaries of $4.55 million in 2013 and $5.3 million in 2014, limiting his trade value.
Marshall was drafted out of Fresno State in the second round of the 2006 NFL Draft by the Carolina Panthers. He spent five seasons in Carolina, starting 32 games in the final two years of his tenure. Marshall then moved to Arizona for one year before moving to Miami.
Dolphins: Smith Swung Helmet at Incognito
Marshall's release was partly motivated by the signing of free agent CB Brent Grimes from Atlanta this spring, leaving Marshall, Dimitri Patterson, and Nolan Carroll to compete for the other starting job.
Marshall was listed as the other starter on the Dolphins' depth chart, but it seems Dolphins general manager Jeff Ireland was not willing to spend so much money on a cornerback who would not be an every-game starter.
A source told ProFootballTalk that Miami could consider bringing Marshall back at a lower salary if another team does not snatch him up first.