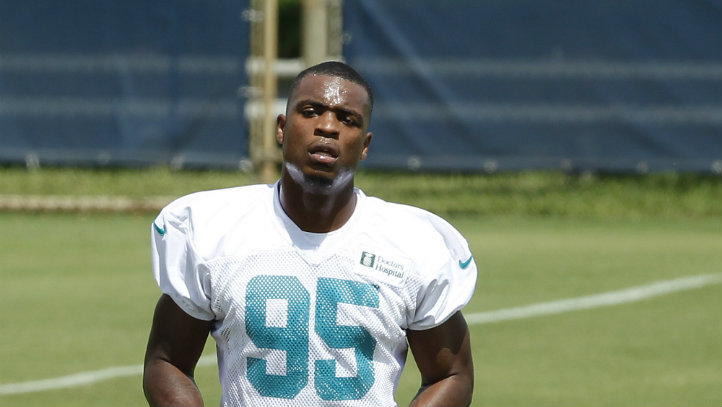 Dion Jordan made his first appearance in practice on the third day of Miami Dolphins training camp Tuesday, though he did not participate in contact drills.
After spending the first two days of camp on the injured list, the Dolphins' most recent first round pick was sporting a new dye job courtesy of his veteran teammates, part of a hazing prank. He also carried the helmets and shoulder pads of two other teammates after practice - another traditional rite of passage for NFL rookies.
Jordan was limited to individual and position drills on Tuesday, but was upbeat after practice.
"I feel real good, first of all just being out there with the guys and being able to run around and hit things and just get back to normal football routine," he said.
Florida Gators Linebacker Antonio Morrison Arrested for Barking at Police Dog

Still recovering from shoulder surgery he underwent in February, the Dolphins will continue to slowly ease him into practice.
"It's going to be a gradual process," Dolphins coach Joe Philbin said. "We'll see how he responds, see how he feels tomorrow and take it from there. We're never going to rush a guy if we don't feel he's ready. We'll take our time."
Philbin added that he does not think Jordan will fall too far behind his teammates because he has been taking part in film and study sessions.
"He sat in the classroom, he's been out there, he's watched all the practice film, heard the corrections," Philbin said. "Obviously, there's going to be a point in time when he needs to get out there and feel it for himself and do it for himself and make a couple of mistakes and then learn from them and move forward as a player."
Dion Jordan: Shocked and Happy By Dolphins' Pick

The Dolphins traded up nine spots in the first round, from 12th to third, to draft Jordan in April, giving Oakland a second-round pick in addition. Jordan said he does not feel any added pressure due to his draft position (he is the highest-drafted defensive player in team history).
He also said he has no expectations as to his role with the team. He could play linebacker in addition to defensive end, depending on the game situation.
"No matter what it is, if it's just a pass rusher, if Coach puts me out there to start, even if it's special teams, I want to play football," Jordan said. "No matter where it is, you've got to earn everything. I have to earn whatever it is."
More Sports Stories:
Copyright AP - Associated Press