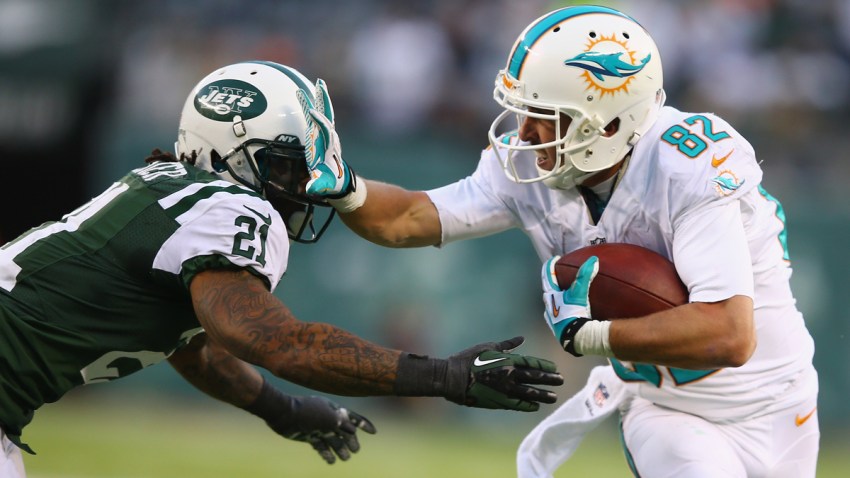 The Miami Dolphins host their biggest rivals in the 2013 season finale on Sunday, and they will have plenty to play for. Despite getting shut out in Buffalo last week, the Dolphins can still secure a playoff berth this week with a little help.
But first they will need to beat the New York Jets for the second time this season. A loss eliminates the Dolphins from playoff contention, while a win and either a Baltimore loss or a San Diego win puts Miami in the playoffs for the first time since 2008 (read this for more on Miami's playoff-clinching scenarios).
"All or nothing," Dolphins receiver Mike Wallace said this week. "It's a weird feeling not knowing what's going to happen. We only have one thing we can control, and that's to play as hard as we can and win. We have a lot of motivation."
Miami beat the Jets 23-3 on the road earlier this month. The Jets have been eliminated from playoff contention, but will surely be motivated to spoil the Dolphins' playoff hopes.
When the Dolphins have the ball: In Buffalo last week Miami's offense gained just 103 yards (50 of which came on one play). But that may have had more to do with Buffalo's top-notch pass rush than anything else.
In their first meeting with New York, Miami QB Ryan Tannehill threw for 331 yards and 2 touchdowns against the Jets' suspect pass defense. He has a chance to top 4,000 yards for the season on Sunday (he is 291 short), while WRs Mike Wallace and Brian Hartline can each surpass the 1,000-yard barrier on Sunday (Wallace needs 95 yards, Hartline 22).
Though the Jets are 11th in the NFL in yards allowed, they are 21st in scoring defense, and have the second-fewest takeaways in the NFL (12).
When the Jets have the ball: When they played December 1, Jets QB Geno Smith completed 4 of 10 passes for 29 yards and an interception, causing the Jets to bench him for Matt Simms in the second half.
"That might have been the low point," said Jets coach Rex Ryan said. "And we've had some low points. But that might have been the worst one, because we really got it handed to us."
New York has the 27th-ranked offense in the NFL, and gains a scant 5.4 yards per pass attempt. The Jets are much stronger in the run game, led RBs Chris Ivory (177 rushes for 814 yards) and Bilal Powell (155 rushes for 621 yards).
Who has the edge? The Dolphins are the favorites at home, and they have been the better team statistically. If they cannot beat the banged up Jets (who have 13 players on injured reserve), then they probably do not deserve a playoff berth.
The pick: Dolphins 24-Jets 10
Details: New York Jets (7-8) at Miami Dolphins (8-7)
TV: CBS, 1:00pm EST, Greg Gumbel, Dan Dierdorf
Line: Miami by 5.5
Previously: Dolphins won 23-3 at New York in Week 13
Copyright AP - Associated Press