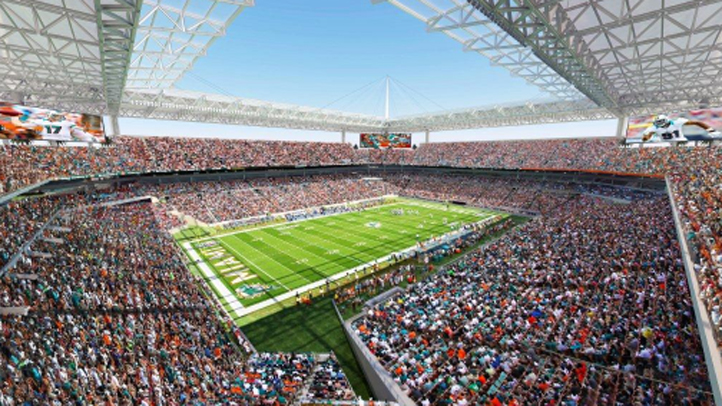 In the team's effort to secure public support to help finance a $400 million renovation of Sun Life Stadium, the Miami Dolphins have created a website and social media campaign designed to bolster public opinion in their favor.
MiamiFirst.com launched on Monday, when Dolphins owner Stephen Ross held a press conference announcing the team's stadium renovation plan and proposal to fund it partially from additional state sales tax rebates and a hike in local hotel taxes.
The site contains a "pledge to the community" to "invest in Miami-Dade County and modernize Sun Life Stadium" in order to keep the stadium "a valuable asset that can compete for elite events." The pledge outlines six principles guiding the effort to modernize Sun Life Stadium: invest and return benefits to the community, use private funds to finance a majority of construction costs, not increase taxes on Miami-Dade residents, create jobs, make Sun Life a world-class facility, and secure the future of the Dolphins franchise.
The site is copyrighted by Sun Life Stadium, which is owned by Ross (who is also the Dolphins' majority shareholder). The site is being promoted through a Twitter feed, @MiamiFirst.
In addition to boasting the ability to continue to make Sun Life a perennial host of marquee sporting events, the site touts the expected economic impact of the renovations.
Devoting an entire page to the jobs stadium construction can create, the site claims the Dolphins' renovation plans "will create more than 4,000 jobs in South Florida, with even more significant dividends generated over the long-term by blockbuster events" to be held at the stadium.
However, academic research into the economic impact of sports facilities paints a dimmer picture. A 2004 study by Dennis Coates of the University of Maryland-Baltimore County and Brad R. Humphreys of the University of Illinois states, "professional sports generally have little, if any, positive effect on a city's economy."
MiamiFirst.com's figures are derived from the claim by a tourism industry group that every 80 visitors who are attracted to Florida result in the creation of one full-time job.
The Dolphins are doubling-down on their PR efforts in reaction to the backlash against the Miami Marlins in the year since they opened a new baseball stadium on the site of the Orange Bowl. The Marlins funded stadium construction using mostly public money, and fans cried foul after the team executed a salary dump in November.
Earlier this week, a Dolphins official told the Miami Herald, "We're furious what the Marlins did slashing payroll, because this will make it more difficult for us [with politicians]."