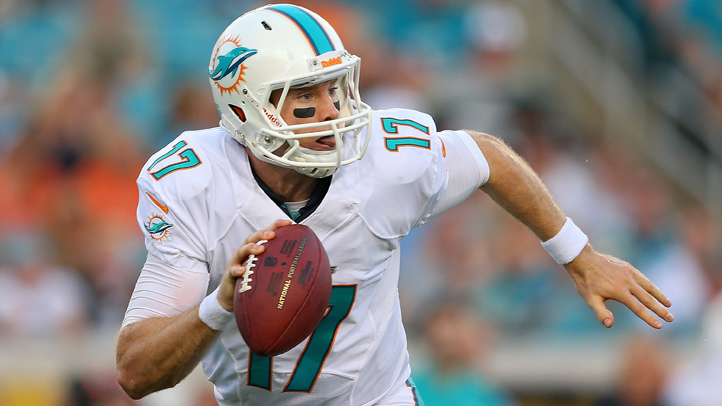 The Miami Dolphins' offensive starters had their best game of the preseason on Saturday, putting up 13 points in the first half of the team's 17-16 loss to the Tampa Bay Buccaneers. Ryan Tannehill completed 17 of 27 passes for 150 yards and a touchdown, showing good timing with his receivers.
The Dolphins gained 180 yards total in the first half along with 15 first downs (the backups took the field in the second half). But the Dolphins also showed plenty areas for improvement heading into the final week of the preseason.
Receivers Brandon Gibson and Brian Hartline each dropped would-be touchdown passes, though they did manage to grab 9 catches between the two of them.
Miami's opening offensive drive went 17 plays for 76 yards, but the Dolphins stalled in the red zone, taking ten plays inside Tampa's 20-yard line just to get off a field goal attempt by Caleb Sturgis.
"I can't tell you the rhythm offensively was great," coach Joe Philbin said after the game. "It didn't feel that way to me. It's got to get better."
RB Lamar Miller seemed to seize the starting job on his 8-carry, 35-yard performance. But 20 of those yards came on one run, take it out of the equation and he and backup Daniel Thomas combined for 18 yards on 14 carries.
Then there is the tight end spot. Charles Clay started, netting a single catch, while backup Michael Egnew was not targeted.
Preseason results are far from indicative of regular season performance, but for a unit that underwent such a transformation over the offseason, the Dolphins' offense looks suspiciously like the offense from 2012 that was near the bottom of the NFL in many statistical categories.
The Dolphins still have two weeks to go before the start of the regular season, but they are running out of time to work out the kinks.
Copyright AP - Associated Press