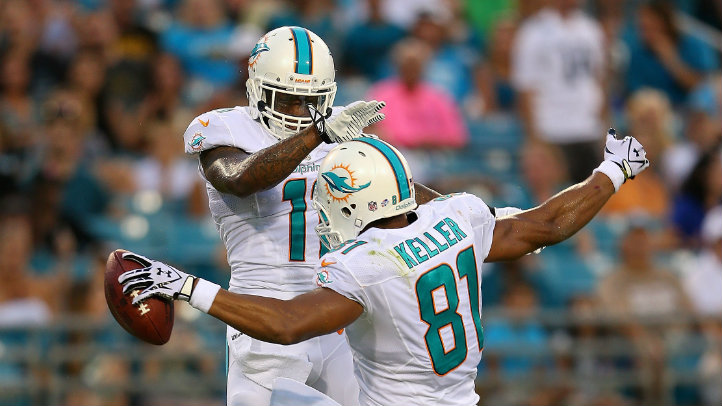 The regular season is fast approaching, and the Miami Dolphins have one more chance to evaluate second- and third-teamers. They will get that chance Thursday night when they host the New Orleans Saints in their final game of the preseason.
If the penultimate preseason game is considered a dress rehearsal for the starters, the last game is the final chance for backups and special teamers to show the coaching staff what they are capable of.
The stakes couldn't be higher for those backups. By Saturday, the Dolphins will cut over 20 players to get their roster to 53. More than a few Dolphins will be playing for their jobs Thursday.
Dolphins Cut Roster to 75 Players
The Dolphins could begin making roster cuts as early as Friday morning, making Thursday night somewhat of a bizarre version of Christmas Eve for players on the bubble.
Dolphins coach Joe Philbin has not said whether or how long starters will play Thursday, but it is more than a safe bet that they will see the field sparingly at most.
"We're going to look at the whole scope of things, and we're going to make a determination who's going to play and how long," he told the Sun Sentinel Wednesday. "We'll have a target number of snaps for the people. Usually we are pretty close to it, but sometimes it's flexible."
Dolphins' Offense Still a Work in Progress
One person who could see the field for the first time since the second preseason game is first-round pick Dion Jordan. He returned to practice this week, saying on Tuesday, "Physically, I felt good." Philbin said of his chances to play, "We'll see. I wouldn't rule anything out."
While the starting offensive line and tight ends are also expected to see the field at least a little bit, the rest of the game will be relegated to the bubble players, which will have to do for Dolphins fans until the real games start next week.
Kickoff is at 7:30 pm with coverage on WFOR.
Copyright AP - Associated Press