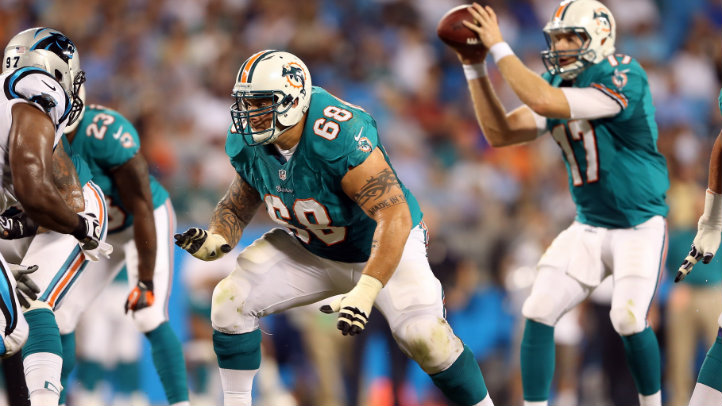 The Miami Dolphins have alerted the NFL about a play in last Saturday's preseason game against the Houston Texans in which Houston DE Antonio Smith appeared to hit Dolphins OL Richie Incognito in the face with his own helmet.
The play occurred late in the first half when the two were engaged. In a video posted by Fox Sports, Smith rips of Incognito's helmet and swings it at his face, appearing to connect.
Dolphins coach Joe Philbin told Fox Sports Monday that the team has contacted the league about a possible fine or suspension for the play. Smith was not called for a penalty on the play.
President Obama to Honor Perfect 1972 Dolphins
NFL.com reported Tuesday that the league will suspend Smith for Week 1 as well as Houston's final two preseason games.
The NFL has precedent for a suspension. The league suspended Detroit Lions DT Ndamukong Suh for two games in 2011 after he stomped on the arm of an opponent.
Incognito and Smith have a history of conflict. Last season Smith was fined $21,000 for kicking Incognito after a play when the Dolphins and Texans played in Week 1. Smith claimed he was trying to stop Incognito from twisting his ankle, a charge which Incognito denied.
The play in question can be viewed at NFL.com. Neither the Dolphins nor Incognito have commented publicly on the play, but Incognito took to Twitter Tuesday morning to discuss the play.
"Football is an intense game," he tweeted. "Blood runs hot.... I've been there. Emotions run high. People lost their cool. Thank God no one got hurt."