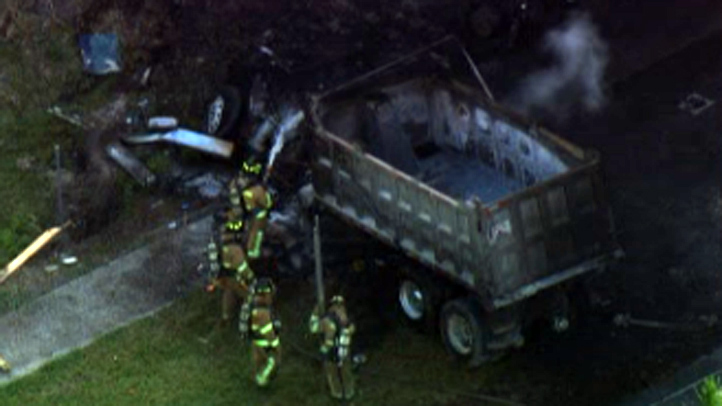 A dump truck fell off a Florida's Turnpike overpass onto grass next to SW 168th Street, Miami-Dade Fire Rescue said.
The Florida Highway Patrol shut down the Turnpike heading northbound around the accident scene, but one lane is now open. Southbound lanes were briefly closed before being reopened.
At about 4:25 p.m. firefighters were spraying water onto the gray mangled wreck of the body of the truck. It was previously engulfed in flames, according to Miami-Dade Police.
The truck came to a resting position rightside up, after plunging right off the overpass on the northbound Turnpike.
Huge wheels were left strewn by the barricade on the edge of the overpass, and dirt and debris were scattered all over.
The driver walked away from the crash with only minor injuries, FHP spokesman Sgt. Thomas Pikul said. The driver told investigators that he blew a tire and lost control, and investigators agree that that looks like what happened, according to Pikul.
The driver said he had a litle blood on his arm and a scratch, but declined to comment beyond that.
Cares are being routed off at Quail Roost Drive, near SW 186th Street, on the northbound Turnpike.
Traffic is backed on the Turnpike and on I-95 because of the crash.
A large number of fire trucks and ambulances responded to the scene.
Stay with NBC 6 Miami for updates.