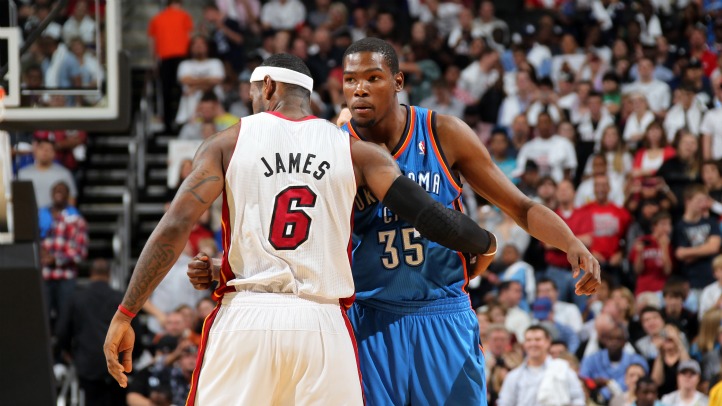 Is Miami ready for the Big Four starring D-Wade, King James, Chris Bosh and the Durantula?
Yes, Kevin Durant is coming to South Beach. No, sadly not like LeBron James did.
The NBA's leading scorer just bought a pricey pad in a condo overlooking, of all places, the AmericanAirlines Arena where the Heatles perform.
K. Durant Enterprises, based out of Oklahoma City, closed on a $1.825 million condo unit at 900 Biscayne Bay at the end of March, the South Florida Business Journal reports.
Dwyane Wade has a condo in the same building a few floors down. Maybe they can play one-on-one in the elevator with a Nerf hoop.
Or maybe Durant and Bosh can squash their feud with a pillow fight during a sleepover (we'd pay to see that).
Warning Heat fan: don't get your jock straps in a bundle just yet. Durant is under contract with the Thunder through the 2015-16 season, so he won't be changing teams just yet.
But can't blame the 22-year-old bachelor for wanting to get out of Oklahoma in the off season to a place with a little more style and sand.