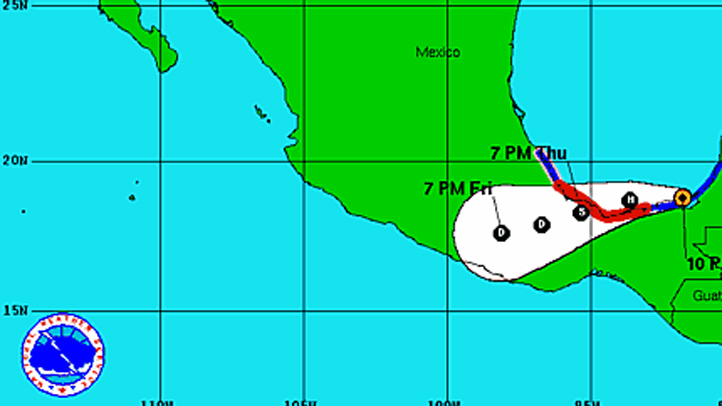 Ernesto was downgraded to a tropical storm from a hurricane Wednesday as its center moved across the Yucatan Peninsula, according to the National Hurricane Center in Miami.
As of 11 p.m., Ernesto had maximum sustained winds of 65 mph as it moved west at 7 mph about 15 miles north of Ciudad del Carmen, Mexico.
Ernesto had become the second hurricane of the season Tuesday.

Ernesto was expected to keep moving toward the west for the next 24 to 36 hours, with its center moving over the southern Bay of Campeche Wednesday night and early Thursday.
A hurricane warning is in effect for Veracruz to Chilitepec, Mexico.
A hurricane watch is in effect from north of Veracruz to Barra de Nautla, and a tropical storm warning is in effect for the same area, as well as east of Chilitepec to Campeche along the Gulf Coast of the Yucatan Peninsula.

Ernesto is expected to strengthen some overnight, and then weaken as it moves over land by Thursday night.
The storm was expected to deliver 4 to 8 inches of rain over the Mexican states of Tabasco, Veracruz, Puebla and northern Oaxaca through Friday, the National Hurricane Center said.