Editor's Note: An earlier version of this story identified Manuel Marin as Presidente Supermarket's co-founder, instead he's a former owner of some Presidente Stores.
A former owner of some Presidente Supermarket stores who was wanted in the 2011 killing of his wife's lover in Miami-Dade has been taken into custody in Spain.
The Miami-Dade State Attorney's Office confirmed supermarket mogul Manuel Marin was taken into custody Tuesday. The State Department has begun the process to extradite Marin to the U.S., officials said.
Marin is one of four suspects in the June 2011 murder of 43-year-old Camilo Salazar, the secret lover of Marin's wife Jenny Marin. Also accused in the plot are former mixed martial artists Alexis Vila Perdomo and Ariel Gandulla, and fight trainer and promoter Roberto Isaac.
Vila-Perdomo and Isaac remain in custody in Miami-Dade, but Gandulla is believed to have fled the country.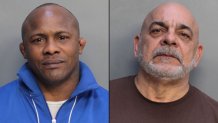 Salazar's body was found on a dirt road in the Florida Everglades in northwest Miami-Dade. He was bound, beaten and tortured and his body was partially burned, according to a police report.
Authorities say Marin fled the country shortly after the killing.
Presidente is one of the fastest-growing Hispanic grocery chains in the country. The company released a statement saying Marin hasn't been involved with them since 2011.
"The Presidente family stands with the community and is hopeful of a quick and just resolution to these claims," the statement read.