Relatives of the 110 people killed when ValuJet Flight 592 caught fire and plunged into Florida's Everglades 20 years ago met and boarded airboats together on Wednesday to visit the remote crash site on the anniversary of the deaths.
Remembering the Victims
The first time Walter Simonton saw the Everglades, the desolation overwhelmed him as he grieved for his mother, whose plane was swallowed up by the wetlands. It was shortly after the May 11, 1996, crash of the Atlanta-bound plan near Miami, when mourners gathered with airline officials and emergency responders to drop roses into the murky waters.
ValuJet Flight 592 Crash
Twenty years later, Simonton still feels haunted by those moments as he prepares to return to the Everglades with his brother and niece to the remote crash site.
"Just vast water. Vast grass," he said this week, unable to find other words for the scene.
His mother, Joyce Simonton of Macon, Georgia, was flying home on her 67th birthday. Her remains were never identified.
"We can't bring her back. We can just get some more closure," Simonton said.
Legal Legacy
The crash over Mother's Day weekend killed all 110 passengers and crew members. The plane plunged into the Everglades while trying to make an emergency return to Miami.
Federal investigators blamed a fire caused by improperly stored cargo.
[NATL] Top News Photos: Pope Visits Japan, and More
Already beset by poor safety ratings, ValuJet never recovered and merged with another low-cost airline. Its maintenance contractor faced criminal charges and went out of business.
Investigators also determined that the Federal Aviation Administration shared responsibility. The agency revised its regulations for hazardous materials in cargo and upgraded its standards for fire detection and suppression equipment in cargo compartments of similar aircraft.
Fugitive Still Sought by FBI
An investigation into the crash resulted in the indictment of Sabretech, Inc., an aircraft repair facility along with three employees. Investigators determined that improperly packaged chemical oxygen generators loaded onto the flight had been signed off on by company employees, despite lacking safety caps.
Two were taken into custody while one, Mauro Ociel Valenzuela, remains a fugitive from justice.
Now 47, authorities believe Valenzuela may be living in Chile under a false name. He's trained as an Airframe and Power plans mechanic and was also an FAA certified mechanic.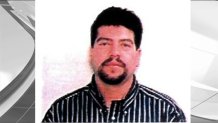 He fled trial on a number of charges, including conspiracy to make false statements to the FAA and Department of Transportation, as well as disobedience and resistance to lawful order.
The FBI is still seeking information on Valenzuela's whereabouts, and urge anyone with information to contact the FBI at 754-703-2000.
Desolate Crash Site
At the time of the crash, a witness told investigators the plane seemed to disappear after its nose-dive. The crater created by the plane's impact, about 20 miles from the main Miami airport, wasn't visible from the nearest highway and was inaccessible except by airboat or helicopter.
Alligators, humidity and muck up to 40 feet thick impeded recovery of the wreckage and human remains. Teams spent nearly two months removing debris by hand and taking it to dry land aboard airboats.
Some victims' families met Wednesday at a roadside memorial where 110 concrete pillars point into the Glades toward the crash sites of both Flight 592 and an earlier flight that crashed into the Everglades, Eastern Air Lines Flight 401 in 1972.
Chris Simonton, Joyce Simonton's mother, was among those who visited the site.
"Coming here is actually closer to what we have at home because at home when I visit her grave it's just an empty casket," he said.
Marilyn Lane-Morgan came from North Carolina to mark the day. Her brother and sister-in-law, Dana and Roger Lane, loved nature, she said.
"It almost feels appropriate for them to have been laid to rest here in the Everglades because they loved nature so much," she said.
Greg Kral, a Metro Dade Police officer at the time of the crash who helped with the recovery effort, met some of the victims' relatives for the first time Wednesday.
"Just to be able to tell them that we really did our best to bring closure to them," he said.
Fragments Recovered
In 2013, a Florida man hunting Burmese pythons in the area of the crash site spotted a penny-sized gold pendant with diamonds and sapphires glinting in the sawgrass. The pendant was partly melted, indicating that it belonged to someone aboard one of those two flights, but its ownership remains a mystery.
Joyce Simonton's family found solace in the recovery of her Bible, though it smelled of jet fuel, along with a couple pieces of jewelry, her purse and clothes from her luggage.
"When something like this happens, you don't know what pieces of your family member are going to be recovered," said granddaughter Kristen Simonton.
Copyright AP - Associated Press