Family and friends are seeking answers after a young woman from Hollywood disappeared last week while out on a walk.
Noemi Bolivar was last seen on Feb. 11 when the 21-year-old left her home for a walk at Anne Kolb Nature Center, friends said.
Her family has filed a missing persons report and Hollywood Police officials have confirmed they're working on the case.
Stay informed about local news and weather. Get the NBC 6 South Florida app for iOS or Android and pick your alerts.
It's believed Bolivar took the bus from her home and family members said she texted her roommate a photo of the nature center on Thursday afternoon. Her phone later pinged near the Hollywood Broadwalk in between Magnolia Street and Taft Street around 11 p.m.
Family members said Bolivar looks very young and they described her as sweet but naive, and said they're worried she could have been a victim of human trafficking.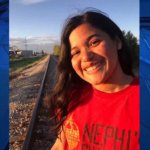 "My worst fear is that somebody may have taken my baby to traffic her or something like that. I'm begging the public that if you know something or were around the area of Anne Kolb nature center on Thursday evening or around the beach, just call us and let us know," mother Marycel Bolivar said.
Bolivar's parents say she is a high-functioning person with autism and is on Adderal after she was diagnosed with ADHD.
Family members described her as very bright, with a major in wildlife ecology from Brigham Young University. But they're worried someone could have abducted her.
"This is totally out of character to think that she would get up and leave," her mother said.
Bolivar is about 5-foot-3 and 126 pounds, with black hair and brown eyes.
Volunteers went by Bolivar's church in Hollywood Tuesday to pick up flyers to distribute throughout Hollywood.
"The area of Hollywood is so big and massive, we need way more people," friend Karem Ryker said. "We definitely have hope. We have not found her body or her shoes or anything so we have a lot of reason to believe that she is still alive and that something bad has happened to her."
Anyone with information about her disappearance is asked to call Broward Crime Stoppers at 954-493-TIPS.