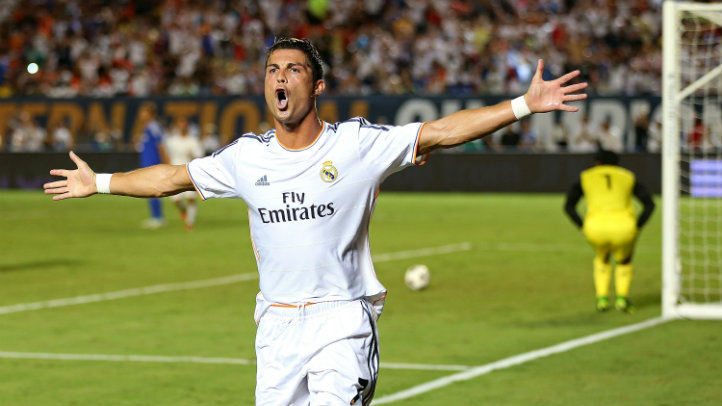 Cristiano Ronaldo scored two goals to help Real Madrid defeat Chelsea at Sun Life Stadium Wednesday night, but both were overshadowed by a fan who ran onto the pitch during the second half to give the Portuguese striker a hug.
Midway through the second half, the fan (wearing a Ronaldo jersey) managed to get onto the field and approached Ronaldo. He wrapped his arms around Ronaldo and whispered a few sweet nothings into his ear.
Youth Soccer Tournament at Disney Turns Violent
Ronaldo patiently listened to the fan and even hugged him back, giving stadium security time to catch up to the fan and escort him off the pitch.
The fan, Ronaldo Gjoka, was arrested for trespassing and disorderly conduct, according to the incident report released by the Miami-Dade Police Department Thursday. Gjoka is a 19-year-old student from Lake Worth.
Real Madrid and Chelsea were in Miami to play the final of the Guinness International Champions Cup. Ronaldo and Real Madrid triumphed in a 3-1 victory in front of 67,273 fans at Sun Life.
"We played beautiful football," Ronaldo said.
Beckham Could Bring MLS Back to Florida
Ronaldo scored two goals, one in the 30th minute on a free kick that broke a 1-1 tie, and another in the 57th minute. The latter came on a perfectly placed cross that Ronald headed in to the back of the net.
Watch Ronaldo's interaction with the fan, as well as his two goals, below:
Copyright AP - Associated Press