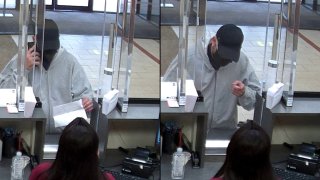 The FBI is searching for a suspect who robbed a Wells Fargo bank in Plantation Tuesday morning.
The robbery happened just before 9:30 a.m. at the bank at 50 Southwest 84th Avenue, officials said.
The suspect entered the bank and demanded money from a bank employee. The amount of money taken wasn't released.
No one was injured in the incident.
FBI officials released surveillance photos of the suspect, who was wearing a dark hat, mask and grey sweatshirt.
Anyone with information is asked to call the FBI at 754-703-2000.