A crash outside a Miami Gardens gas station caused a tractor-trailer and another vehicle to erupt in a massive fire Tuesday morning, leaving one driver hospitalized.
The crash took place just after 4 a.m. near the Pilot gas station in the 16600 block of Northwest 27th Avenue. Both the tractor-trailer and a blue Nissan Maxima were engulfed in flames and heavily damaged in the incident.
Miami Gardens Police officials said the tractor-trailer was making a left turn into a parking lot when the Maxima crashed into it.
Surveillance footage from a nearby business showed the car slam into the truck before they both burst into flames.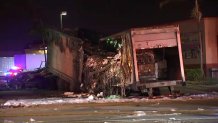 "I heard boom, boom. I thought it was firecrackers or something," said Willy Jackson, who lives nearby.
Both drivers exited the vehicles with non-life threatening injuries, police said.
Air rescue was called to the scene, and the driver of the Maxima was transported to an area hospital. Police did not release that person's identity.
"I've never ever seen anything like anything like this. Seeing something like this is a disaster," said Shirley Patrice, who works nearby. "I feel sorry for the driver. They are so important for this nation, taking the food and taking production across the country."
Miami-Dade Fire Rescue extinguished the fire.
The crash remains under investigation.
Stay tuned to NBC 6 on air and online for updates