What to Know
FIU student Alexa Duran has been identified as a victim killed in the bridge collapse that occurred on Thursday.
Five other people were killed and several others were injured in the incident.
Alexa Duran, a Florida International University student, was one of the six victims killed in the pedestrian bridge collapse, officials confirmed Friday.
Duran, 18, was the first victim of the bridge collapse to be officially identified.
NBC News reported that Duran was driving home from a doctor's appointment, with her best friend in the passenger's seat, when she stopped at a red light. The bridge collapsed and fell right on top of the car.
Her passenger was Richard Humble, a 19-year-old sophomore at FIU. Humble told the "Today" show that the incident happened too fast for either of them to get out of the way in time. He suffered a neck injury but was able to walk away from the wreckage.
Humble told NBC News that he will miss Duran's personality.
She was "so unique and so graceful and beautiful," he said.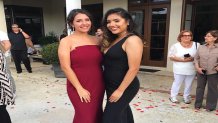 "I want people to see how sweet of a girl she was, really down to her core and how she touched everybody's life," Humble said. "But I think it's more important that we cherish every memory that we have with our loved ones because we never know when anything could happen."
Duran and Humble were making plans for the evening while stopped at the red light, he said.
Duran was a graduate of Archbishop McCarthy High School.
"The Archbishop McCarthy High School community mourns the loss of one of its own," the school said in a statement. "Our hearts and prayers go out to her family and friends. We ask God to grant them strength and peace during this very difficult time."
The four other people killed in the incident on Thursday have not yet been identified. An employee working on the bridge was recently identified as a victim.