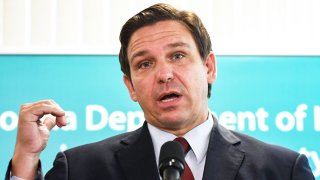 Florida Gov. Ron DeSantis is pushing for the passage of a bill that he says would protect the free speech of medical practitioners in the state.
DeSantis and Florida Surgeon General Dr. Joseph Ladapo held a news conference in Panama City Thursday in support of the Free Speech of Healthcare Practitioners Act.
The bill would prohibit health care practitioners from being reprimanded, sanctioned, or revoking or threatening the revoking of any license, certificate, or registration for specified use of the right of free speech without proof that it caused harm.
The Republican governor spoke out against lockdowns, mask mandates, school closures and other measures that he said were pushed by federal agencies and White House Chief Medical Advisor Dr. Anthony Fauci.
Stay informed about local news and weather. Get the NBC 6 South Florida app for iOS or Android and pick your alerts.
"We're here today to really stand up for the traditional practice of medicine," DeSantis said Thursday. "I think what we've seen particularly over the last two years has been a very politicized medical establishment and they kind of have certain views, a lot of times they're informed by political ideology unfortunately, very tracking closely with people like Dr. Fauci and if practitioners dissent from that there's sometimes movements to have reprisal against that just for trying to practice medicine."
Critics have said the bill would allow physicians to spread disinformation that could put people in danger.
DeSantis acknowledged that with just over a week left in the legislative session, it will be tough to get it passed this year.
"You have to have protection for the 1st amendment rights of people who are practicing medicine," DeSantis said. "You're not gonna have good medicine practice if people are fearful of doing things that the evidence is telling them to do just because it may conflict with the narrative."
The news conference comes a day after DeSantis made headlines for scolding students for wearing masks at a news conference at the University of South Florida in Tampa.
"You do not have to wear those masks. I mean, please take them off. Honestly, it's not doing anything. We've got to stop with this COVID theater. So if you wanna wear it, fine, but this is ridiculous," he said, letting out an audible sigh and shaking his head.