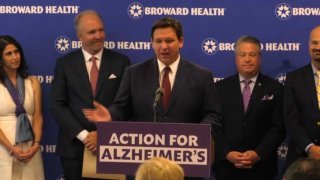 Florida Gov. Ron DeSantis discussed funding for Alzheimer's disease research and signed a bill related to Alzheimer's education at a news conference in Fort Lauderdale Thursday.
DeSantis held the news conference at Broward Health, where he signed Florida Senate Bill 806, also known as the "Ramping up Education of Alzheimer's Disease and Dementia for You" or READY Act.
The bill requires the Department of Health to educate certain health care practitioners regarding specified information related to Alzheimer's disease and related forms of dementia.