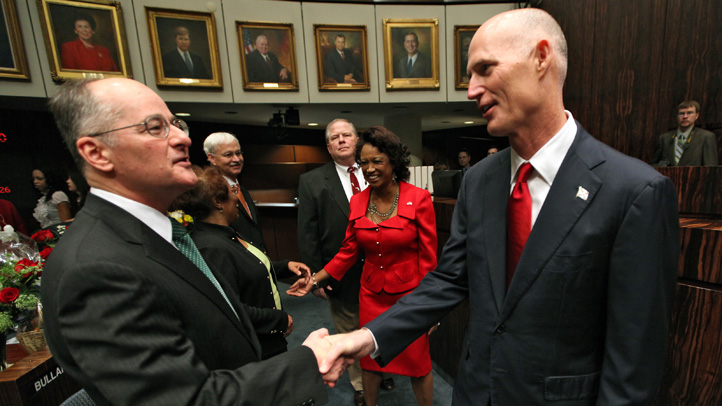 The Florida Supreme Court issued a split decision on legislative redistricting Friday, rejecting the Senate's plan but upholding the House's map.
The landmark decision interpreted new anti-gerrymandering standards voters put into the Florida Constitution two years ago. The justices said the Senate map favored incumbents and the Republican majority. The 5-2 ruling establishes guidelines for a redo of the Senate map as well as future redistricting efforts.
"From this day forward, our elected officials are on notice that they cannot ignore the constitution and abuse the public trust by drawing districts to favor themselves," said Deirdre Macnab, president of the League of Women Voters of Florida, part of a coalition that backed the Fair Districts amendment and challenged the Legislature's maps.
It also means the Republican-controlled Legislature, which was wrapping up its regular annual session on Friday, must return to Tallahassee to fix problems outlined in the 234-page opinion.
In a dissent, Chief Justice Charles Canady and Justice Ricky Polston, said they would have approved both maps. The two most reliably conservative justices said the high court should have shown deference to the Legislature and conducted only a limited review as it has done in the past. That echoed an argument made by legislative lawyers.
The majority, though, ruled the Fair Districts amendment required a detailed review and specific findings to clarify what voters intended.
"The new constitutional provisions seek to level the playing field in how legislative districts are drawn," Justice Barbara Pariente wrote for the majority.
The 11th U.S. Circuit Court of Appeals in Atlanta used similar language when it recently upheld a second Fair Districts amendment for congressional redistricting.
"A failure to define these constitutional imperatives in a manner consistent with the will of the voters would frustrate the intended purpose of this new amendment," Pariente wrote.
The court said eight Senate districts are unconstitutional as well as the chamber's changes in district numbers because it was done to favor certain incumbents.
The renumbering would allow more incumbents to serve 10 years under an exception to eight-year term limits also in the constitution. That's because some senators, depending on whether they are in odd- or even-numbered districts, would get four year terms and others two year terms this year to keep them staggered so only half are up for election in non-redistricting years.
Each chamber drew its own map although both need approval from both chambers. Senate President Mike Haridopolos, R-Merritt Island, said in a statement that once Gov. Rick Scott calls a special session the Senate "will work diligently to adjust the areas that the court has expressed concern over."
House Speaker Dean Cannon, R-Winter Park, said the ruling "will provide a great help moving forward."
Democrats and three nonpartisan groups that backed the Fair Districts amendments alleged both maps violated the new restrictions, including a ban on intentionally drawing districts to favor or disfavor incumbents and political parties.
They alleged the maps would let the GOP maintain two-to-one majorities in both chambers although Florida's voter registration and voting patterns are almost equally divided between Democrats and Republicans.
The Supreme Court, though, said that's not enough to conclude unlawful intent. The justices said each district must be examined to determine if there's a violation.
The amendments also protect minority voting rights and require that maps be compact and follow political or geographic boundaries whenever feasible.
The high court faulted the Senate for relying only on voter registration numbers rather than conducting a perform analysis based on past election results to determine the number of black voters a minority district needs to protect their right to elect a candidate of their choice.
The justices agreed a couple districts with convoluted shapes in northeast and South Florida have more Democratic-leaning black voters than necessary to achieve that goal. That makes neighboring districts more white and Republican and helps their GOP incumbents.
One of the invalidated districts is represented by Sen. Don Gaetz, a Niceville Republican who chairs the chamber's Reapportionment Committee and is in line to become Senate president in November.
Instead of following county lines in the western Panhandle, the Senate sliced five counties in two to maintain Gaetz' current long, thin coastal district nearly intact along with the adjacent inland seat to the north held by Sen. Greg Evers, R-Baker. The court ruled that approach benefited both Okaloosa County incumbents.
"Our place isn't to argue with the court but to adopt a new map conforming to its judgment," Gaetz said in a statement. He said he was encouraged the justices validated 32 of the Senate's 40 districts.
The Senate used major and minor roads, rivers and creeks as well as city and county lines, often switching from one to another in a short space to divide the districts. Pariente wrote that the high court, instead, accepted the House's approach of using only geographic boundaries "easily ascertainable and commonly understood such as 'rivers, railways, interstates, and state roads.'"
Democrats and the three Fair Districts groups — the Florida League of Women Voters, National Council of La Raza and Common Cause — also have filed Circuit Court lawsuits challenging the congressional map, which does not get an automatic Supreme Court review.
Republicans currently have a 19-6 edge in Florida's congressional delegation. The new map adds two more seats due to population growth for a total of 27.
The GOP also has majorities of 28-12 in the Senate and 81-38 in the House with one formerly Democratic district vacant.
Copyright AP - Associated Press