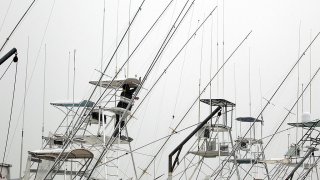 The Florida Keys is bracing for the potential impacts of Tropical Storm Eta as the system continued to strengthen on its projected path to the region.
Monroe County officials say they are expecting the storm to pass near or over the Keys as a Category 1 Hurricane Sunday evening. Hurricane and Storm Surge Warnings have been issued to parts of the area with storm surge flooding expected to be between 2 to 4 feet - the highest occurring over the north end of the Lower Keys.
On Sunday, Monroe County Mayor Heather Carruthers asked residents to stay home or seek shelter.
"Just hunker down, stay home. It's probably going to be a noisy night. If you are living on a boat or in a mobile home you should seek shelter on land. Our Keys shelters have been open since noon," Carruthers said.
Keys residents spent the whole day doing just that - hunkering down for the impeding storm.
Boat owners made sure to secure their vessels in marinas from Marathon to Key West.
One man sailed all the way from Maryland hoping to catch some Florida sunshine - only to be met with Eta's nasty weather.
"I was hoping to just chill out and not have to do much but you know, that's why we sail. We love to work with nature so that's where we are," Karim Khalifa said.
Monroe County is expected to see 6 to 12 inches of rain, with some isolated areas reaching 18 inches.
County officials announced that schools would be closed Monday, with plans to reopen on Tuesday if conditions allow.
Shelter Locations:
Key West High School, 2100 Flagler Avenue
Marathon High School, 350 Sombrero Road
Coral Shores High School, 89591 Overseas Highway, MM89.9 in Tavernier